---
Design & Buy Your Own Drool-Worthy Shoes Online (Free Giveaway!)
Posted In: Style | Posted By: Brit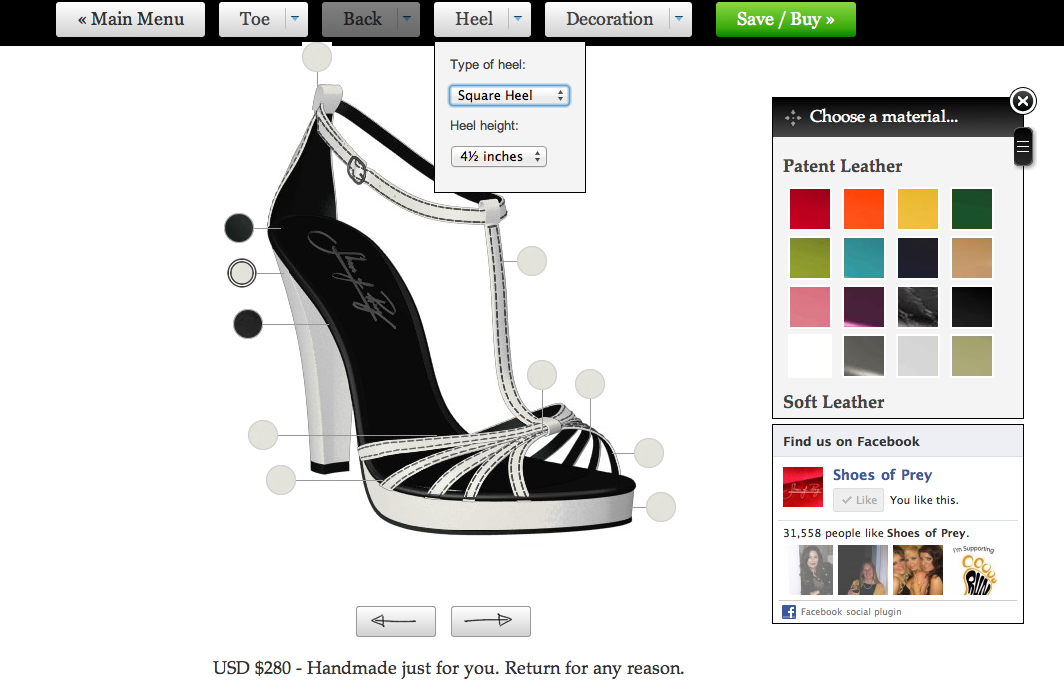 Watch out, Christian Louboutin and Manolo Blahnik -- you've got competition. We've just come across Shoes of Prey, a website that lets anyone become their own shoe designer. The site is like NikeiD for women's shoes - you start by choosing among a large variety of shoe types (booties, flats, heels, etc), and then customize every detail of the design from the strap to the sole. There are all kinds of different colors and fabrics to choose from: leather, suede, silk, snake skin, animal prints and even several fabulous glitter and sequin options (a popular choice among those here at Brit HQ). You can even customize the heel size and add decorative adornments like bows. It's every woman's dream. (Dudes, if you're reading this, let us spell it out for you: This is a perfect Valentine's Day gift!)
We have to warn you, though - you might want to block out a solid chunk of your afternoon to design your shoes. Though the site is extremely simple to navigate, there are so many options that you'll likely end up designing multiple pairs because it's too hard to choose just one! We are only mildly shoe obsessed, and we spent a good 2 hours playing with color combinations. Can you imagine how long someone like Carrie Bradshaw would spend on this site? It would be nuts. Take a look at some of the concepts we came up with during our multi-hour design fest.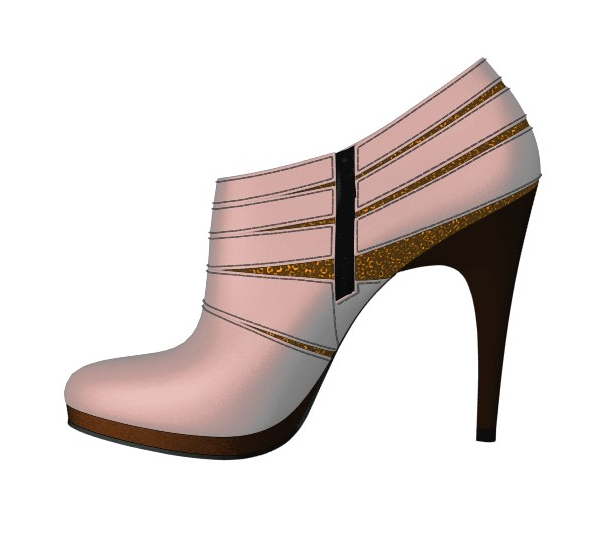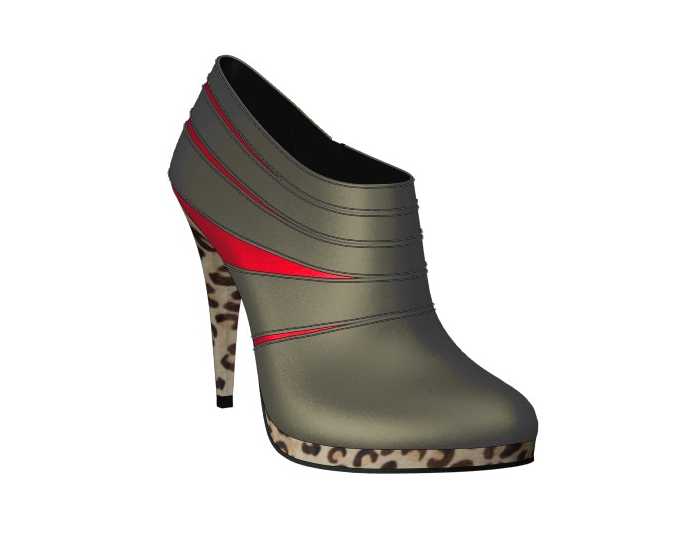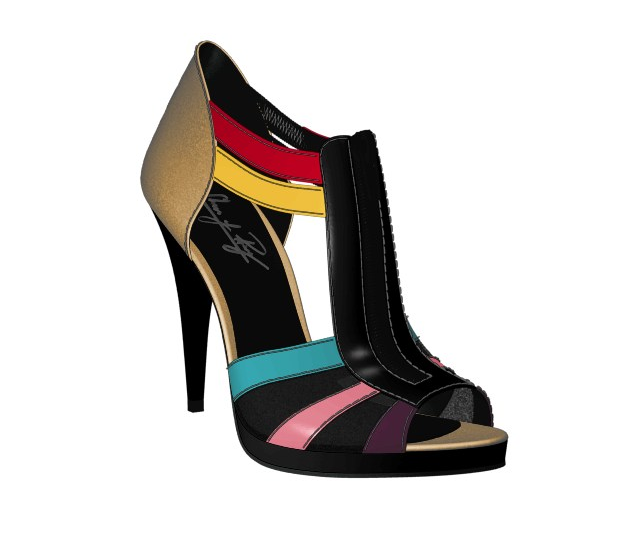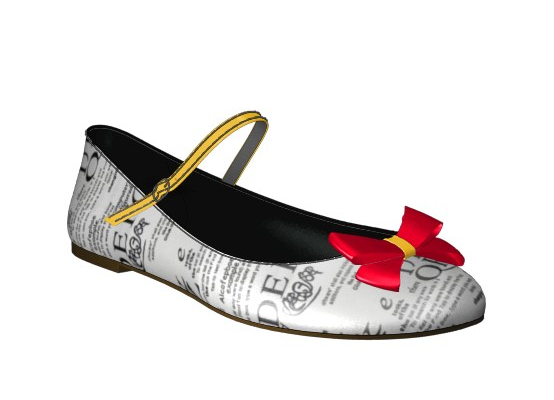 Once you are happy with your designs (in our case, hours later), you simply checkout and then your shoes will be made to order and delivered within weeks. We especially love that these shoes are not pumped out in large production factories like many other well-known shoe brands; instead, experienced cobblers use an 11-step process to put together each individual pair based on the unique design selected. Though we can't yet speak personally of the quality and fit (we just ordered ours this week, compliments of the company), others tend to agree these shoes are of extremely high quality. Rightly so, since they are on the more expensive side -- prices start at $180, which is costly, yes, but you get to DESIGN YOUR OWN SHOES! It's worth it. This is the pair we ended up purchasing - all suede with a high stiletto heel and peek-a-boo coloring.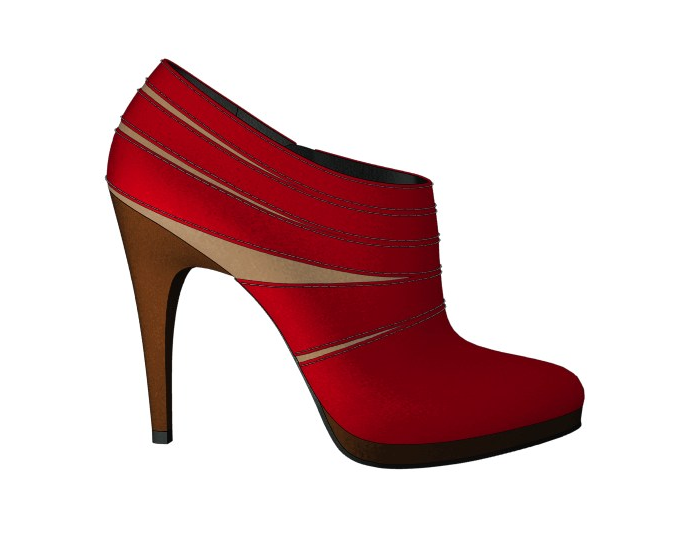 Apart from the extremely fun and addicting design process, we're also glad to see that the Shoes of Prey team offers terrific customer service. There's a 365-day return policy, free size exchanges, and even a reimbursement if you take your shoes to get repaired in your own city.
Are you sold yet? Good. Read on!
We're partnering with Shoes of Prey to give one lucky reader a $305 voucher -- enough to design anything up to a 4.5-inch heel (that's a lot of heel). To win, all you have to do is describe, link, or screenshot a design you've created and say what you would wear it with. You can comment below, reply to us on , or write on our . We will choose a winner by next Thursday, 1/26 at midnight Pacific Time.
Whether you are customizing the perfect Valentine's Day heel, or a simple pair of weekend flats, we want to see you rock some "sole searching" creativity. Get designing!
***Update: Congratulations to Tabea Bruce for winning the contest! She designed the shoes below, and here's what she said about the outfit she'd pair them with: "I'd wear this daring creation with a pair of white cropped skinny jeans, a flowing yellow silk blouse and midnight blue blazer. A no-fuss hair style and a gold statement cuff or ring and I'm all set!" We love how she mixed colors, textures and patterns together in a chic way. Congrats, Tabea!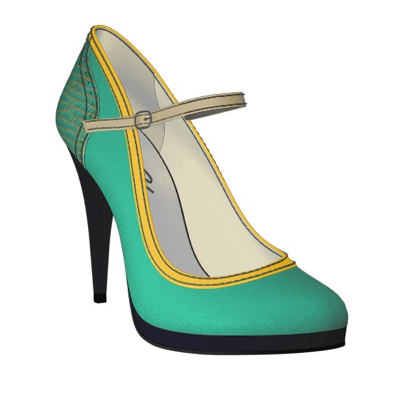 ---
---
You might also like
---