---
Me Oh My! You Are Sweeter Than Pie: DIY Mailable Mini Chess Pies
Posted In: Food | Posted By: Meagan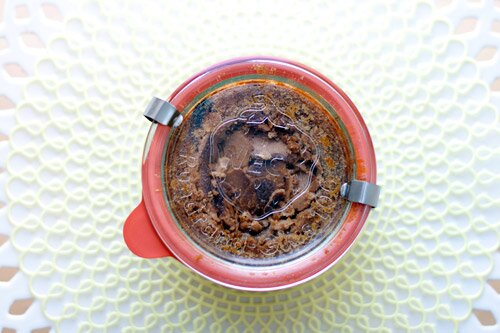 Few things in life bring me more happiness than receiving a package in the mail. Except maybe enjoying a slice of my grandmother's homemade chess pie. And because even great things are better together, we decided to combine these activities just in time for Valentine's Day with mailable mini (chocolate) chess pies! Nothing says "Be Mine" better than a delicious little treat, all wrapped up and sealed with a kiss. These pies can be baked directly into Weck jars, and then packed and over-nighted to a lucky recipient. 
The best thing about this recipe is that you pretty much throw everything in a bowl and mix it together. So, even though the ingredient list is long, its super simple!
You will need 9.8 oz. short Weck jars. These are the perfect size for this recipe, as they are basically the same proportion as a pie pan, just smaller. (But really any shallow wide mouth jar that can be placed in the oven will work - just be sure not to make the crust too tall.) This recipe yields 6 mini pies, or one 9" pie.
Ingredients:
For the crust:
- 1 generous cup ground Graham Crackers (1 sleeve)
- 1 1/2 cup ground Nilla Wafers (roughly 36 wafers)
- 1 cup granulated sugar
- 1 1/2 tbsp honey
- 1 1/3 stick unsalted butter, melted and slightly cooled
- 1/2 tsp pure vanilla extract
- 1 tsp salt (or a little bit more, depending on your personal taste) 
- 1 dash ground ginger (this is optional)
For the filling:
- 1 cup granulated sugar
- 1/2 cup dark brown sugar
- 1 1/2 tbsp fine ground corn meal
- 1/4 tsp salt
- 3 large eggs plus 1 large egg yolk
- 1/2 tsp pure vanilla extract
- 1 stick unsalted butter, melted and slightly cooled
Note: The ganaché is totally optional, and traditional Southern chess pie is made without it. But, it's not hard to make, and I personally think everything is better with chocolate.
For the ganaché:
- 1/2 cup heavy cream
- 3 oz. chocolate chips, or finely chopped chocolate of your choice
- 6 cubes of caramel 
- 1 tsp sea salt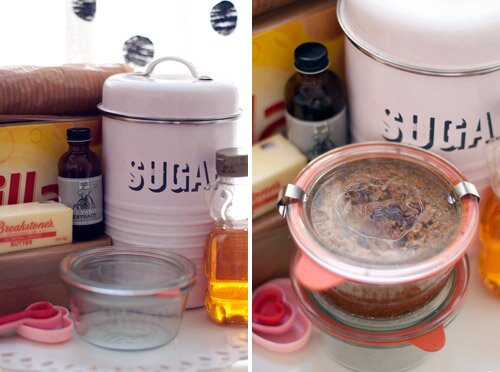 Directions:
1. Preheat the oven to 350 degrees. 
2. Make the crust: Mix all of the ingredients together in a large bowl. Press into the sides and bottom of the each jar. (You can just place the rubber lip and jar lid to the side for now.) Make sure to leave enough room at the top of each jar so that the lid will fit on top of the jar when the pies are finished, about 1/4 of an inch. Refrigerate for 15 minute to set. Then, bake for about 12 minutes, or until the crust is golden brown. Remove from the oven and let cool. Turn oven down to 325 degrees.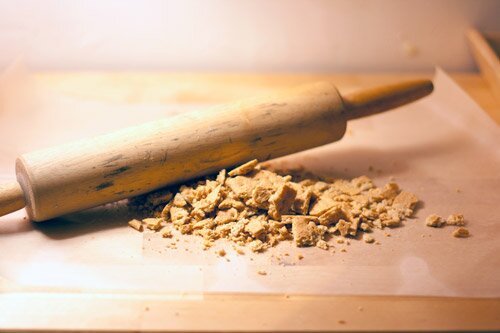 3. Make the ganaché: In a small sauce pan, bring the cream to simmer on low-to-medium heat. Place the chocolate and caramels in a bowl, and pour the cream over the chocolate and caramel. Stir until the chocolate and caramel have melted, mix in salt, and set aside to cool.
4. Make the filling: Mix all of the sugars, salt, and cornmeal together in a bowl until all of the clumps are broken up. Whisk in the eggs, yolk, and vanilla. Whisk in the butter.
5. Pour a layer of the ganaché into each pie crust about G thick. Then fill the rest of the way with the filling. Place pies in the oven and bake for 35–40 minutes, or until the top of each of the pies is golden brown. Remove from the oven and let cool completely before placing the lid of the jar on the pie. Once they have cooled, place in the refrigerator until you are ready to mail it. (You should plan to mail these within 24 hours of baking them.)
Pack the Pie
1. Get a box with enough room for the pie and packing material around it.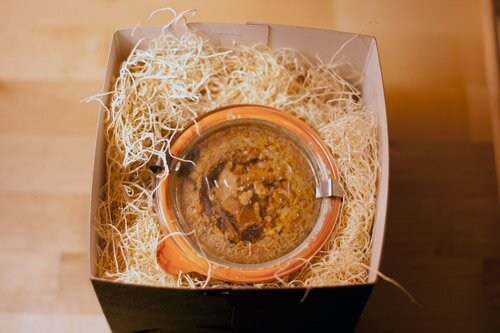 2. Nestle the pie in enough paper or padding so that it will mail safely. (I like to use this wood material for packing. It keeps everything perfectly safe and in place. You can purchase it at the Container Store. But, if you have enough paper scrap around, you can always get creative and pack your pie safely into old newspaper, magazines, etc.)
3. Overnight it to your Valentine!
Wrapping Ideas
I really like to place these little tags on the pies before I give them to people. I also like to wrap the box that I'll be mailing it in in brown craft paper, and then leave a kiss mark on it with red lipstick. It's a bit cheesy, but if there was ever a day in the year where you can get away with it, it's February 14th!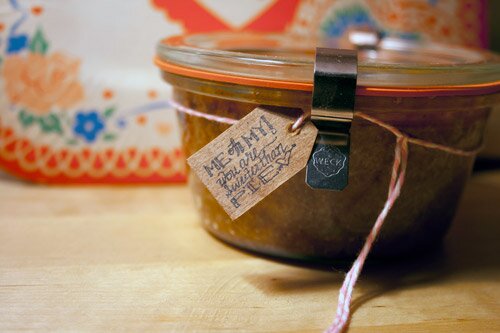 Meagan Bennett () is the Associate Art Director for Abrams Appleseed, an imprint of Abrams Books for 0-5 year olds. When she's not designing books, she's usually either baking, designing, illustrating, making jewelry, running, or crafting. She writes and draws about all of the things that make her smile at her . 
---
---
You might also like
---