---
Sundance Style III: A Streetcar Named Desire
Posted In: Style | Posted By: Courtney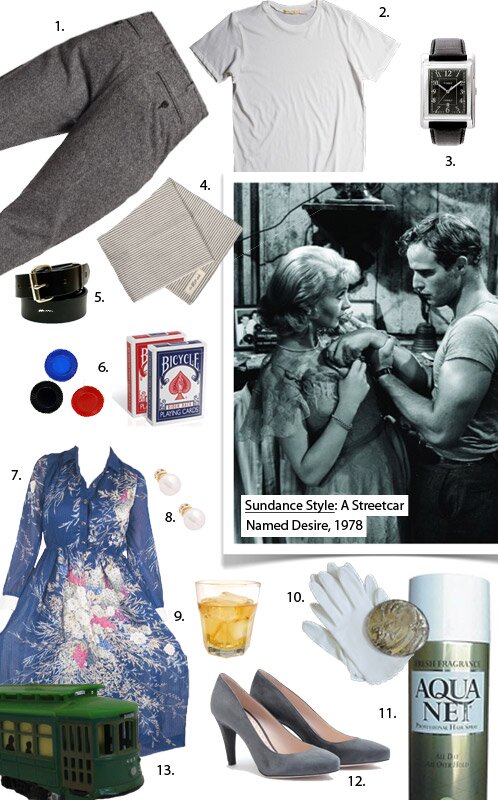 For the last installment of our Sundance Style Series, we get back to a universal cinema classic. A Streetcar Named Desire was featured in the first ever Sundance Festival in 1978. Ladies there's lots of sweet fashion inspiration from Vivien Leigh as Blanche DuBois but the real style standout from the film is Marlon Brando's fitted tee. In the fifties, when the film was made, t-shirts were an undergarment and thus weren't form fitting so Brando's iconic tee had to be sewn tight. The t-shirt followed up it's starring role in Streetcar with a turn on James Dean in Rebel Without A Cause and was forever cemented in popular fashion. Now you know.
1. Bonobos Boss Tweeds 
2. Alternative Apparel Perfect Crew
4. The Hillside Chambray Pocket Square
6. Playing Cards and Poker Chips
8. Chloe + Isabel Pearl Studs
10. Vintage White Gloves and Silver Compact Mirror
12. Gray Suede Pumps
13. Vintage Souvenir Streetcar
Well folks, that concludes our journey through Sundance by way of classic cinematic style. Hope to see you at the festival next year! ;)
 is a partner at Hard Candy Shell, an agency that has helped companies like Rent the Runway, Jetsetter, and Of a Kind build enticing digital presences. She writes a blog called Heart Explosion, collects remarkable Amazon and Etsy finds on Tydepool, and is one of the creative cuteness connoisseurs behind Cute Roulette.
---
---
You might also like
---