---
Let There Be Light! LED Holiday Centerpieces
Posted In: Living | Posted By: Anj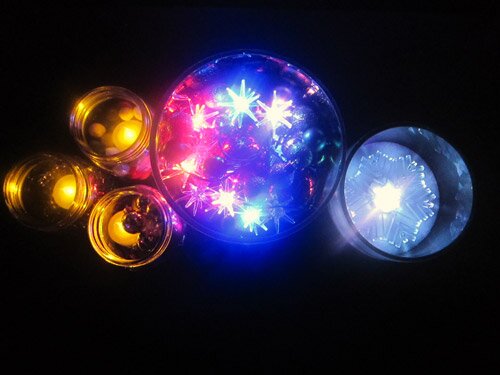 There's definitely something 80s about our LED holiday centerpieces as they nostalgically combine bright colors, kitschy flashing lights and a dose of technology. As a child of the 80s, anything glowing was a huge win (Lite Brite, Gloworms, and DayGlo in general) and as a teen in the 90s, I had more than one rotating disco light and was always jealous of the kids who had glow-in-the-dark constellations on their ceilings.
That's why today, we're pumped to share not one, not two, but three (!) simple ways to to create glowing LED Holiday Centerpieces - perfect for glitter-loving party girls, robot-building dudes, and totally safe for the kids' table. And aside from the LED snowflake, starburst lights, and tea lights, each of these centerpieces uses just a few simple household (or dollar store) materials.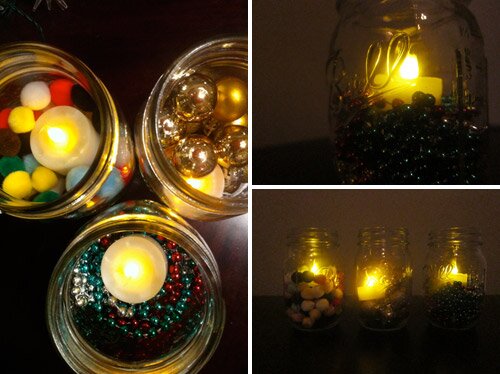 #1 - Three Jars of Light
Materials: 3 mason jars, 3 LED tea lights (we bought ours at Walgreens), and a few handfuls of colorful craft materials you have around the house (we used pom poms, mardi gras beads, and mini ball ornaments - other options could be buttons, marbles, cotton balls, gumballs, etc).
Simply pour your colorful materials into each jar, top with an LED tea light, and you're done!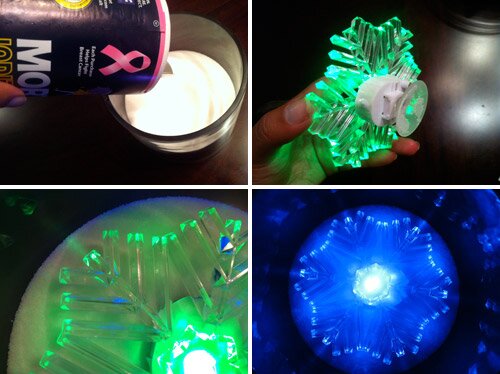 #2 - The Salty Snowflake
Materials: 1 cylinder vase (4.5"x4.5"), 1 26 oz can of salt, white electrical tape, and a Philips LED Battery Operated Snowflake (we bought ours at Target)
This one is slightly messy, but ridiculously easy. Pour the entire can of salt into the vase. Turn on your snowflake, and cover the on/off switch with white electrical tape (otherwise, salt will get in there making it difficult to turn on and off). Place the snowflake firmly on top of the salt so that the battery pack is just about buried. Ta dah!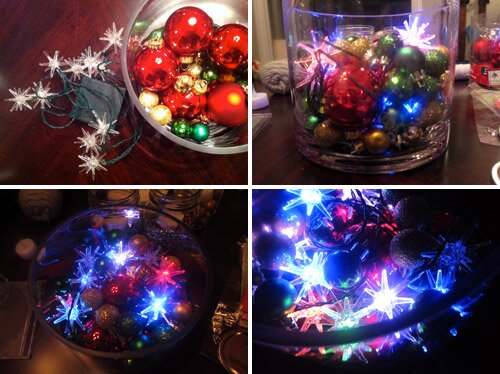 #3 - Starburst Strobe
Materials: 1 cylinder vase (6.5"x5" ), 5 medium ball ornaments (Target), 2 tubes of mini ball ornaments (Target), and 4 AA batteries
Turn battery pack on and place in the vase. Keep the battery pack at the bottom, and add the medium ball ornaments while holding the starburst strands up. Let the starbursts sit on the ornaments, and add in 2 tubes of mini ball ornaments. Shake the whole thing around gently allowing the ornaments and bursts to mingle and settle and there you have it. You'll have a centerpiece that looks a lot like a rave and that is also ideal for transitioning your dinner party into a late night dance fest.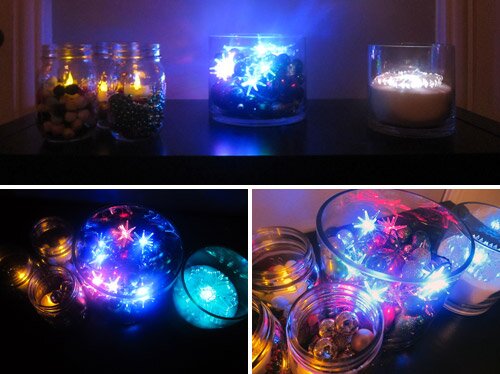 Got some light-filled centerpiece ideas of your own? Illuminate us:
---
---
You might also like
---