---
Use the MemoMug To Drink & Jot Notes At Once
Posted In: Living | Posted By: Brit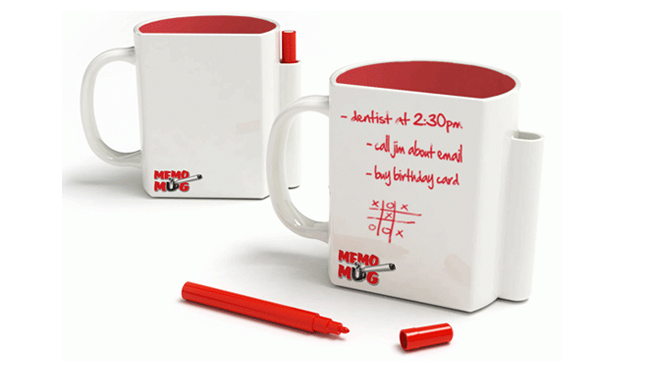 If you work in any creative area, whether in a classroom or at a big company, you probably know the importance of a whiteboard. It's great for jotting down ideas, solving problems, and organizing thoughts. The MemoMug ($17) is a mini whiteboard + mug in one. Personally, I always sit at my desk with both a notebook and a cup of coffee or tea next to me, so this could be a great solution for keeping those random thoughts and that cup of joe in the same place. And, I know I won't forget any reminders I write down, since I'll see them every time I take a sip! The flat surface and integrated pen holder are both great design features for making it easy to write, though I do wish it came without the blaring logo.
No, it isn't a replacement for the white board on your wall, but it is a fun way to: a) cut down on the amount of stuff on your desk (less clutter makes for a more creative environment), b) remember your important tasks and ideas, and c) start a conversation with anyone that walks by. Or even BETTER: Buy or make a set of these and use them as place settings at your next dinner party. How cool would it be to have a brunch or dinner party where each guest gets one to take home as a favor?

Want to make your own? You can buy dry erase paint and paint any mug or glass you currently own. These would make for great gifts for the holidays, especially if you wrote a cute note on them for your giftee.

And if chalkboards are more your style, check out this set of 4 colorful chalkboard mugs ($25) that look equally as interesting. They are also DIY-able using one of my favorite products ever, chalkboard spray paint. Here's to more creative drinking.
---
---
You might also like
---