---
Sundance Style II: The Big Lebowski
Posted In: Style | Posted By: Courtney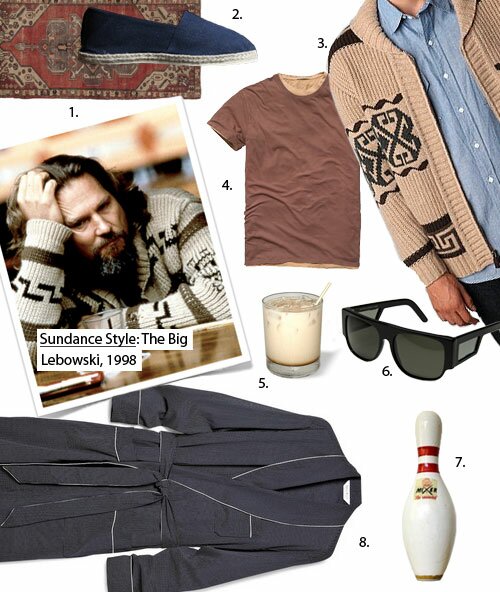 The Big Lebowski is a certified cult classic that had to make the list when talking about Sundance style. The Dude's slacker attitude is perfectly reflected in his wardrobe: baggy tee, oversized Pendleton sweater, jelly sandals, black shades. I updated the outfit with items from some of my favorite men's retailers -- while keeping the laid back, California cool. Remember, whatever you're wearing, The Dude abides.



2.
 Les Toiles Du Soleil Espadrille

3. Pendleton The Dude Shawl Cardigan

4. Scotch & Soda Double Layer Crew Neck




6. Retrosuperfuture SideViews



7. Vintage 70's Brunswick Bowling Pin



8. Derek Rose Lightweight Cotton Bathrobe

Check out Courtney's first Sundance Style installment on Welcome to the Dollhouse, and stay tuned for her third on one of the original Sundance classics.
is a partner at Hard Candy Shell, an agency that has helped companies like Rent the Runway, Jetsetter, and Of a Kind build enticing digital presences. She writes a blog called Heart Explosion, collects remarkable Amazon and Etsy finds on Tydepool, and is one of the creative cuteness connoisseurs behind Cute Roulette.
---
---
You might also like
---