---
Juice Up: The 10 Best Juice Cleanses You Can Buy Online
Posted In: Health | Posted By: Amanda
Amanda Cey is the Founder and CEO of ABCey Events, a San Francisco based Private and Corporate Event Planning company that services the technology industry and has produced events for Oracle, Adobe, Apple, Tesla, Razorfish, Accenture, and more. She is also a self professed health nut and advocate. You can find Amanda on  ,   or follow her Events blog.
As an event planner, I often spend 12-16 hour days on my feet. I have to stay healthy and energized. I am a huge fan of juice cleanses as they are the most natural and organic method of detoxifying and healing. They are especially great post holidays after most of us have over indulged in unhealthy foods and alcohol. I often recommend these to brides-to-be, since they are also a quick way to slim down or jumpstart a healthier lifestyle. Our bodies and minds also experience physical and mental clarity by taking time off from regular eating.
Some of the benefits of juicing include increased mental clarity and energy levels, improved digestive function, strengthened immune system, normalized body weight, improvement in sleep patterns, balanced PH Levels, cleared complexion, improvement of circulation, lowered blood pressure, balancing of blood sugar levels, and cleansing your colon.

We have researched and reviewed 10 of the best juice cleanses from around the country, as well as providing a totally customizable DIY option!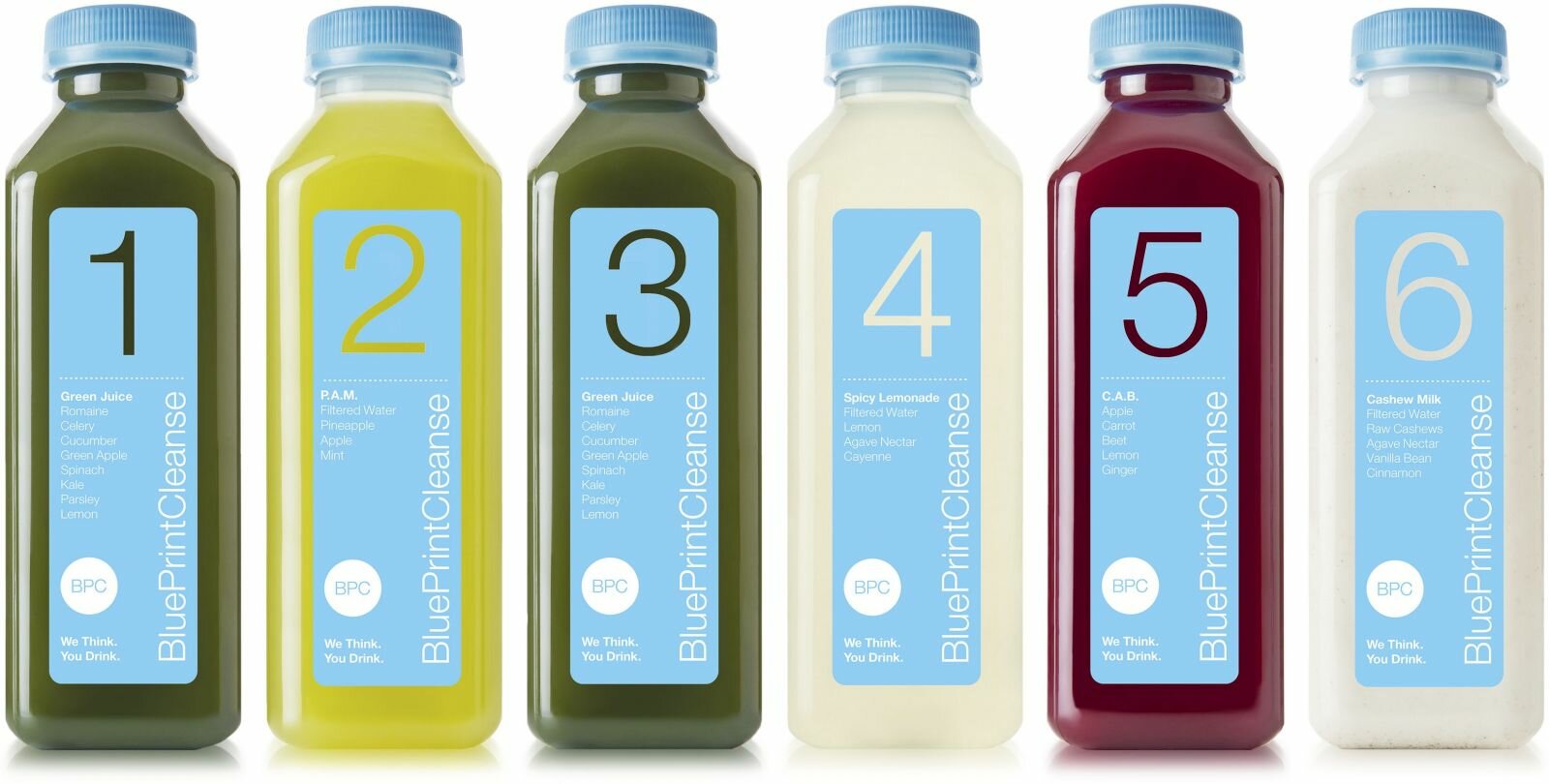 1. Blueprint Cleanse: This cleanse offers Renovation, Foundation, and Excavation levels (Beginner, Intermediate, Expert). As you will see with many of the cleanses, the main difference between the three levels corresponds to how many green juices vs. fruit juices per day. For example, if you are diabetic or can't handle much sugar, the Excavation cleanse is the best fit for you as it has more green juice than fruit based juice. If you are a new juicer, you probably will want to start with Level One and gradually work your way up. The other option here which is nice is Juice 'Til Dinner, which is a less intense Juice and Food program. Cleanses begin at around $65 per day and you can purchase for as many days as you'd like. Blueprint is 100% organic, and is available all over the US and Canada.




2. Life Juice Shop: I am loving this company's mantra. The stream of consciousness in their logo represents their life philosophy and the products that they provide. They say their goal is to "lead healthy, eco-friendly lives – lives that are sustained by whole foods and vitamins retrieved straight from the earth." All of their juices contain natural, premium quality ingredients which are immediately frozen in their raw form to maintain freshness. Juices are not pasteurized and must be consumed within three days of defrosting. They have super creative names such as Alkaline Blend, Energizer Bunny, Happy Belly, Local Liquid, and Oh My Green Goodness. You also get a Life Juice Spa Detox Salt Bath to help soothe your muscles and joints along with a tote to drag around your juice all day. Bonus! 3-Day Cleanses begin at $180 but juices are also sold separately. Delivery is available throughout the US.


3. The Juice Press: As an experienced juicer, this one really sticks out to me (more cute names like Green Giant, Drink Your Salad, Spanish Fly, and False Unicorn). They use 100% organic produce and make it on the best known juice machine on the planet, the Norwalk Cold Press (This is super expensive so go with a Breville if you're a newbie, or splurge on the Green Star- my juicer of choice). They do not dilute their juice or stretch it out with cucumber and the formulas are made the way you like them: intense. Their ingredients seem a bit more complex than many of the others too. They also make ridiculous smoothies and sell cleansing enzymes that can aid in your juice crusade. Also, their raw food menu looks really good and they deliver.  Yelp reviews claim their customer service needs work. Their standard 6 juice per day cleanse runs at $54 and is available only in New York.


4. LOVE Deep from Organic Avenue: This company offers 6 cleanse options and they also have fun names! Love Easy, Love Fast, Love Deep, Love Beauty, Love Transition, and Love Support are all based on the Live, Organic, Vegan, Experience. This is Gwyneth Paltrow's fave! I love all the varieties here, such as in Love Fast; you get a salad at the end of the day and fresh smoothies and soups. Everyday a fresh LOVE* cleanse package is delivered to your door (or you can pick it up at a convenient location, but only if you live in NYC). You will receive a daily email with instructions, a time schedule, nutrition information and LOVE* inspiration. The Love Deep (all juice) runs about $286 with a refundable bottle deposit, so it's significantly more expensive than some of the other 3-Day cleanses. Organic Avenue also offers a variety of supplements and nutritional products as well.

Organic Avenue is now offering 10% off their 3-Day LOVE*easy Cleanse.This cleanse is great  for first timers as it incorporates organic raw food along with your juice. Enter promo code EASYNY12 at checkout.*




5. Juice to You: This cleanse is based in San Francisco and offers Beginner, Intermediate, Advanced and Pro Levels. You can also choose between 1-Day, 3-Days, and 5-Days. I love all the options here. Their packaging is also a little fancier than some of the others, so something about the juices being aesthetically pleasing is nice. The 3-Day cleanses run about $190 and are delivered to your door each morning. Pictured above is a sample of what a beginner level day looks like.




6. Cooler Cleanse: This cleanse was started by Salma Hayek, a juicing aficionado, with Eric Helms (who owns Juice Generation) and offers 3-Day and 5-Day cleanses, a custom cleanse, and the Raw Cooler.  Each day you consume 6 drinks at regular intervals, much like the others. Their à la carte Custom Cooler lets you enjoy their juices any way you like them, and the raw-food meals can be delivered daily before and after your Cooler Cleanse, to help you ease into, and transition out of the cleanse. The Raw Coolers can also be ordered on their own as a Raw Food Detox. Additionally, you can join the Cooler Club, a membership program that ensures custom-designed coolers will arrive at your home or work throughout the year. Cooler Cleanse will deliver to your door anywhere in the continental U.S. via FedEx Overnight Shipping. They also offer local delivery and have pickup locations in New York City.


7. Can Can: I love the Can Can and my DIY version is a variation of this one. They offer a 1-Day, 3-Day and a Green cleanse and include teas and soups along with the juices. Again, the Green cleanses are for the more experienced who would like to explore the next level of cleansing. They change the ingredients up seasonally, so new juices and soups pop up at different times of the year. I am a big fan of the blended soups and the nut milks are always filling. Each day, you consume the same menu of 8 nutrient-rich beverages. 3-Day cleanses are $185 and come in mason jars of different sizes (great for re-use). This is a San Francisco based Juice Cleanse.




8. Living Greens: Living Greens offer 1-Day, 3-Day and 5-Day programs.  Each morning they deliver freshly blended juices, teas, and other healing elixirs to your door such as fresh young coconut water, aloe juice, potassium broth or probiotics. Their programs are a bit more customized for each individual ensuring that each client's specific needs and goals are met. All Cleanse programs offer 3 different levels of intensity- Living Well, Living Clean and Living Green. All Living Greens juices are made with 100% organic, fresh produce, never frozen and no preservatives or added sugars. I haven't tried this one and the website doesn't give you costs per cleanse. Juices can be purchased separately. This is a San Francisco based juice cleanse.




9. iZO:  The iZO Cleanze is an organic California based vegan juice and superfood cleanse company. Their recipes are custom-formulated by a panel of experts and are "extensively cultivated for maximum well-being and a delicious range of fresh tastes." Their juice cleanse programs are home delivered and cater to busy professionals who want maintain their youthfulness and stay attractive, energetic and vibrant. 3-Day juice cleanses begin at $300 (without add-ons). Really? But wait, they offer a DIY version on the site in an effort to make juicing accessible to the masses, which is something I haven't see before. iZO Juice Feast Cleanzes are currently only available in L.A. and Orange County, CA.



10. Red Carpet Cleanse: RCC offers a standard juice cleanse, a 5-Day Raw Food Cleanse, and a 7-Day Full Body Cleanse. They also offer a variety of combinations which are customizable. Their ingredients are all raw, whole, fresh, local when possible, seasonal, high-quality, and organic. Their whole-body detox juice cleanse features daily home delivery of delicious fresh fruit and vegetable juices, packed in a convenient stay-fresh cooler. This is an LA based cleanse and runs at $90 per day. 

: For those of you who have the time and want to save some money, it's easy to model your own after the many out there. This typically costs me about $60 for a 3-Day cleanse, as opposed to the $180+ that most of the ones on the market cost. These usually contain approximately 6-8 juices and consist of about 1,000 to 1,200 calories per day. There is generally a nut-milk component for fat and protein, and vegetable juices for vitamins, minerals and live enzymes. Some even include teas, smoothies, soups, and raw foods. *Note: Spreadsheet does not include fruit and vegetable quantities. 

Oh yeah, and we have one more cleanse that we'll call the Bogus (because it's clearly not a Bonus)!


The Master Cleanse: I have never tried this and never plan to. I think this is what non-juicers think a cleanse is. The ingredients are lemon juice, cayenne pepper, and maple syrup and you drink only this for 10 days of your life. Celebrities swear by its energizing and weight loss effects. However, many people report fatigue,irritability, headaches, pains, nausea, vomiting, and uncontrollable bowel movements. For me, a juice cleanse is about elimination but it's also about consuming an inordinate amount of fresh veggies! I absolutely love lemons and they are highly alkalizing, but I'm not sure this is all I could drink for a week plus.  Booooorrringgg!

So now it's time to jump on the juice bandwagon and experience the many health benefits (not to mention the quick weight loss). Don't think of it as starving yourself; you will be flooding your body with incredible nutrients & veggies all day long. You'll likely miss the idea of eating more than actually being hungry, I promise! Which ones have you tried? Send your favorites to . And cheers to a juicy new year!
---
---
You might also like
---