---
DIY Halloween Hostess Gift (Made In 10 Minutes Or Less!)
Posted In: Living | Posted By: Brit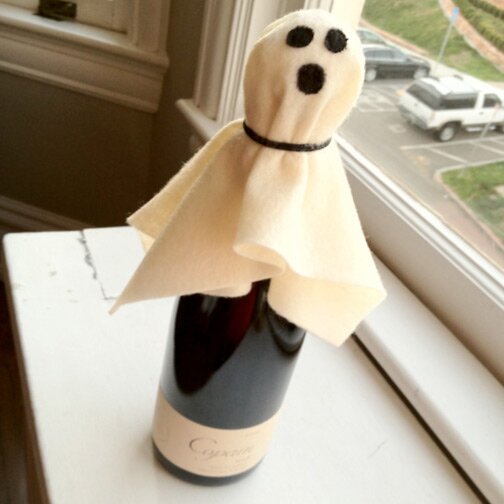 Heading to a Halloween party tonight and don't have anything interesting to bring the hostess? I was in the same pickle last night and came up with an easy (and cute!) solution, made in literally 10 minutes, using only objects I already had around my house.

Materials:

One piece of white or beige felt (fabric would work too - even an old t-shirt) cut in a 12-inch square.
One black hairband or rubberband (a ribbon would also work)
Sharpie marker
Parchment paper, newspaper, tissue paper… or, any type of paper :)
A bottle of wine, or the libation of your choosing.
Optional: Black felt or fabric
Optional: Thread
Instructions:
Wad whatever paper you decide to use (I used parchment paper) into a small ball, which will act as the ghost's head.
Place wad of paper on top of wine bottle and cover with felt square.
Attach hair band around neck of wine bottle, wherever you think looks right in order for the ghost to have a long face.
Using your Sharpie, mark eyes and a ghostly mouth.
NOTE: If you are out of time, you can stop here, and you will still have a cute ghost. If you want to polish it up a bit, read on.
With your black felt or fabric, cut out circles for the ghost's eyes and mouth. Try to match the size of the circles you drew on the felt.
Remove the felt from the bottle. The circles you drew now act as a stencil for you to stitch your cut circles onto.
Use a sewing machine or hand stitch your black cut circles onto the felt. (Pro tip: My machine was threaded with white thread and I didn't have time to re-thread it with black thread, so I just Sharpie'd over the white thread once I was done sewing.)
Re-configure the felt back onto your bottle using your paper and hairband.
That's it! I was pleasantly surprised with how it came out, as was the hostess I ended up gifting the bottle to. Have a great Halloween night!
---
---
You might also like
---