---
NYE Style: All That Glitters
Posted In: Style | Posted By: Courtney
Courtney Lewis is a partner at Hard Candy Shell, an agency that has helped companies like Rent the Runway, Jetsetter, and Of a Kind build enticing digital presences, and writes a blog called Heart Explosion. 


1. Confetti Systems Crystal Piñata: I would love to deck out a giant room with the glitzy party creations of super duo artists Nicholas Anderson and Julie Ho. They are so glam! Buy the original or grab some metallic tissue paper and make your own. 

2. Gryphon Flash Maxi: I adore this dress. A - because I love me a good maxi dress and B - because it lets you get in on the sequin trend without going all in. It's understated, elegant and just a little mysterious. It retails for $460.00 but you can rent it for $75.00 over at Rent The Runway.

3. Nido Texture Ring: I'm constantly scouring Kickstarter for fashion projects to back. That's where I discovered Cecilia Elguero's amazing gold and porcelain ring. As a thank you for helping to fund her ceramic studio I received the ring for 35% off the retail price. It's a statement piece but it's versatile enough that I find myself wearing it almost daily. Bonus, when you get an item through Kickstarter you've always got a great conversation starter when someone asks where you bought it.

4. BaubleBar Gold Pave Studs: These earring are most certainly sparkly. That said, their small size makes them subtle enough for daytime wear so you can add a little glitter to your regular routine. I pair mine with Rogan Jeans, a J.Crew Sweater, and a pair of No.6 Boots. BaubleBar is a great place to look for jewelry as a considerable portion of their inventory is priced below $50. 

5. Violent Lips Glitterati: These temporary lip tattoos simultaneously draw to mind the Rodarte SS11 runway and my Jem and Holograms Barbie doll. I can think of no better occasion to try these out than New Years. They last between 4 and 8 hours so you'll be free to party instead of spending time in the bathroom reapplying various glosses, lipsticks, and balms.

6. Deborah Lippmann Boom Boom Pow: If you are terrible at painting your nails — like me — try glitter polish. It's nearly impossible to see mistakes and you can easily pluck off any stray pieces of glitter that end up on your skin or cuticles. For more manicure ideas . 

7. We Love Colors Splash Metallic Tights: We Love Colors is one of my style secrets. They make nearly every color of tights under the sun — and for well under $20 a pair. Wear this metallic pair with a simple black dress and a slicked back high ponytail and let your stems shine center stage.

8. Society6 Glam Snow iPhone Case: At this point my phone is basically an extension of my body. So it seems only fitting to style it up. Right now I'm rocking animals but I could see making the switch to this wintery sequin number. So delicate and ladylike! Society6 is worth a browse as they have crowd sourced thousands of other case designs from artists worldwide. 

9. Stila Sparkle Liquid Eye Liner In Flash: My favorite glittered makeup look is when gold liner is swept just on the inside corners of the eyes a la Scarlet Johansson at the Mango Fashion Awards last year. The pen shape of this liner makes it easy to do and if you make a mistake you can blend once the color sets. 

10. Jan And Paul Silver And Gold Clutch: When I go out I always switch out my stuff to a small purse. It's just not fun to be stuck carrying a giant bag around all night — and let's be honest, you don't really need all the stuff that is in there anyway. This little guy from Etsy looks just the right size to hold your lip stuff, phone, and monies. Etsy's full of treasures but it can feel overwhelming. One thing I do is favorite stores I like as I'm browsing, and then when looking for something specific start my search with the "search my favorites" option. That way I'm starting from a pool of vendors I know I like.

11. DIY Sparkly Boots: I've been coveting a pair of these Barney's Co-Op boots all season but just couldn't swallow the price tag. Luckily, while browsing around I found Le Fanciulle's Sparkly Boot DIY. All you need is ankle boots + glitter + craft clue and you're golden.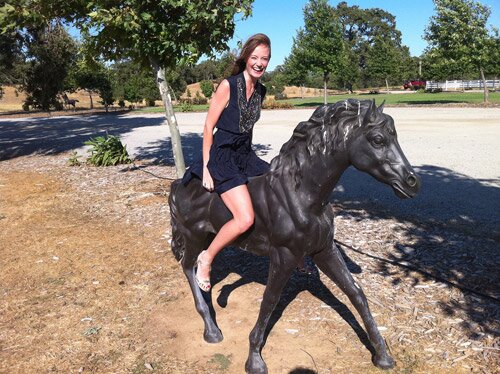 Follow Courtney on , Tumblr, and Svpply for more glittery goodness!

How will you get your sparkle on to ring in 2012? Send your glittertastic tips to .
---
---
You might also like
---