---
Ornaments + Safety Pins = NYE Style!
Posted In: Style | Posted By: Anj
What to do with all those adorable mini ball ornaments and safety pins you used to decorate your non-tree Christmas tree? Turn them into a super festive, easy-to-make New Year's bauble necklace, collar, or crown!
Materials:
- 30 mini ball ornaments (or 15 large ones)
- 30 small safety pins
- 2 shoelaces




First, take a safety pin and attach an ornament to it. Then holding the safety pin upright (fastening end on the top), loop a second safety pin through the top opening. Attach your next ornament, and repeat until you're done. Then take your shoelaces and attach one to each end of the bauble chain.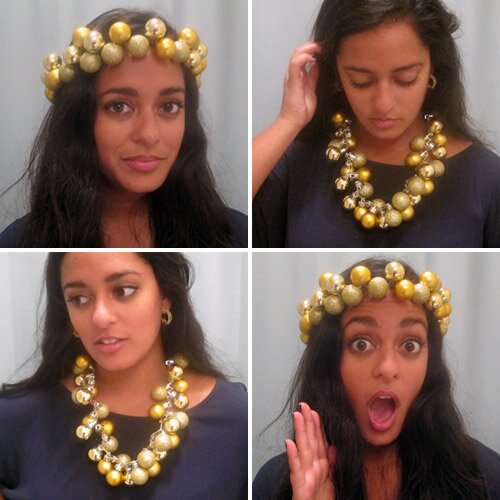 Tie around your neck or head, and get ready to belt out Auld Lang Syne.

Bonus New Year's cheer if you use glittery ball ornaments that sprinkle sparkly goodness everywhere you go! For more festive ways to ring in 2012, check out our NYE Style Guide.

How do you get your glitter on for New Year's Eve? Send style tips to !
---
---
You might also like
---