---
Fiesta Tomato Bowls
Posted In: Food | Posted By: Anj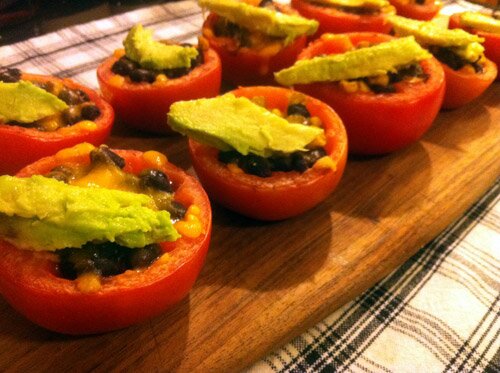 Inspired by my recent trip to Mexico and undying love for anything combining tomatoes, black beans, cheese and avocado, these bowls are hearty, pretty healthy and you likely have all the ingredients in your kitchen already. To take these appetizers to the main course level, serve them atop a bed of herbed couscous or rice and complement with a sautéed green.
Ingredients
- 10 tomatoes (preferably on-the-vine)
- 1 can of black beans
- 1 can of whole kernel corn
- ½ cup of shredded cheddar cheese
- 2 tsp dried oregano
- optional: avocado for garnish
Preheat oven to 375°F.

Drain the black beans and sauté over medium heat, covered, for 5-10 minutes depending on how firm or soft you like your beans. Drain the corn and add to the pan. Add salt, pepper and dried oregano. Heat on high, uncovered for another couple minutes.

While the filling is heating up, wash your tomatoes and remove from the vine. Cut off the tops and scoop out the middle with a spoon. (We suggest saving the tops and middle, dicing 'em up, and making yourself a Bloody Mary on the side).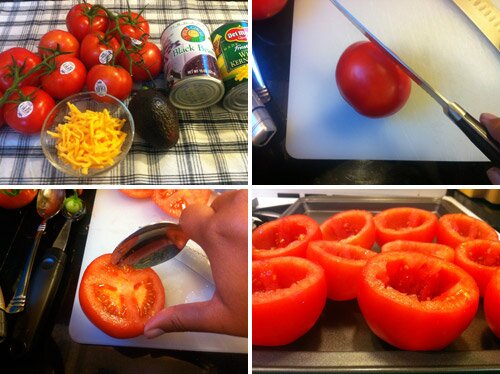 Place tomato cups on a small cookie sheet and fill with your black bean corn sauté. Add a sprinkle of shredded cheddar on the top and bake for 15 minutes.
Let cool for 5 minutes, add an avocado slice as garnish, and serve!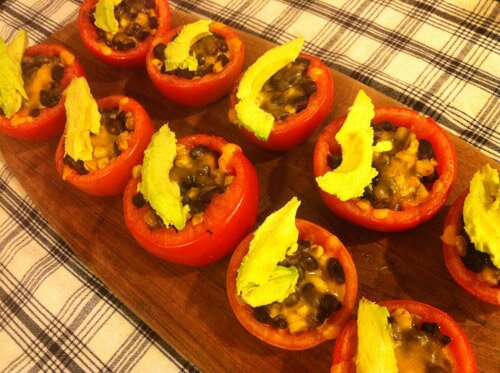 ---
---
You might also like
---