---
No Bake S'mores Pie - Made With Only 5 Ingredients, In Under 10 Minutes
Posted In: Food | Posted By: Brit
Ready to experience one of the easiest pie recipes you'll ever come across? Our S'mores Pie was one part experiment, one part food coma. After all, it's hard to mess up any combination of graham cracker, chocolate and marshmall. We only had a few ingredients (once again, proving that restrictions force creativity) and still managed to whip up a tasty dish that only took 10 minutes to prepare.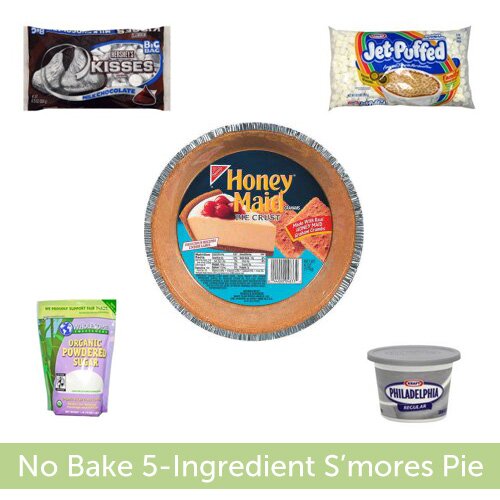 All you'll need for this tasty treat are five simple ingredients: 1) a ready-made graham cracker pie crust (or, make your own), 2) one 8-ounce container of Cream Cheese, 3) one cup powdered sugar, 4) one bag mini marshmallows, and 5) one bag Hershey's Kisses.
To begin, unwrap the Hershey's Kisses and layer a cup into a mircowave-safe bowl. Microwave for 30 seconds, or until melted, making sure not to over melt or burn. Pour into bottom of crust to form a base layer. Then, combine the cream cheese, one cup of powdered sugar, and 3 cups of marshmallows in a bowl and microwave until melted, stirring every 30 seconds. Pour the mixture into your pie crust. Next, line the outer rim with Hershey's kisses. Finally, simply fill the middle with mini marshmallows and refrigerate for at least three hours. (I didn't have enough time to refrigerate, so I stuck mine in the freezer for 20 minutes. It was pretty soft -- it had a pudding-like texture -- but still tasted delicious.) Garnish with sliced or grated Hershey's Kisses as desired.
Most s'mores pie recipes I've seen will have you bake the pie so that the marshmallows turn golden brown and the chocolate melts. While this is also a great option (and one that would likely work for this recipe, so long as you kept the Hershey's Kisses far enough inside the crust), the refrigerated version tastes just as good and takes way less time to prepare.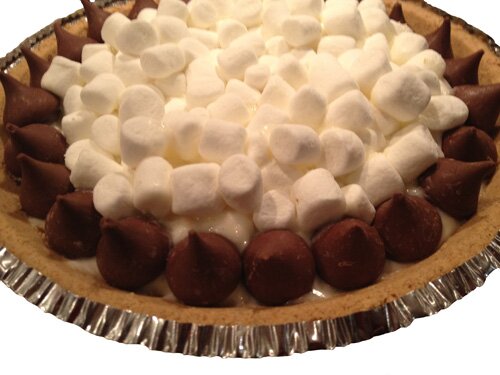 We think this would make for a fabulous dessert dish at any dinner party (or Super Bowl party!). Even the novice chef can prepare it. So, what are you waiting for? Get cooking!
What are some of your other favorite easy dessert dishes? Leave us a note below or find us on .
---
---
You might also like
---