---
Radish Soybean Crostini
Posted In: Food | Posted By: Anj

This fresh take on crostini doesn't quite fit our "cup-like" requirement but it is totally self-contained, super delicious, and the festive mix of greens is perfect for a Christmas celebration.
Ingredients
- 1 cup cooked soybeans
- 1 cup fresh arugula
- 1 baguette
- 5 radishes
- olive oil

If you're going to crisp up your bread in a conventional oven,  preheat to 350°F. A toaster oven will work just as well for this, though you'll need to toast your bread in a couple batches.

We used frozen soybeans for this recipe, so the first step is boiling water and cooking the soybeans. While these cook, cut your baguette into ½ inch slices and place in a single layer on a cookie sheet. If your bread is on the hard side, drizzle a little bit of olive oil on the pan.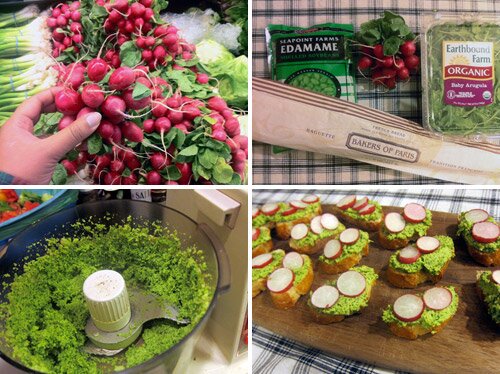 Once the soybeans are cooked, place them in your food processor with a tablespoon of olive oil. Pulse for 1 minute. Add in arugula and continue to pulse. If the consistency is still on the grainy side, add in another teaspoon or two of olive oil.

Toast your bread! If baking, it should take just 5 minutes to get your bread warm and lightly crisped. While the bread is in the oven, it's on to the radishes. Scrub radishes thoroughly and slice thinly, about ? inch slices.

Take your toasts out of the oven. Spread with arugula soybean mixture (similar to a pesto consistency but thicker), top with sliced radishes, a sprinkle of sea salt and you're all set. Magnifique!
---
---
You might also like
---