---
White Bean Walnut Mushroom Caps
Posted In: Food | Posted By: Anj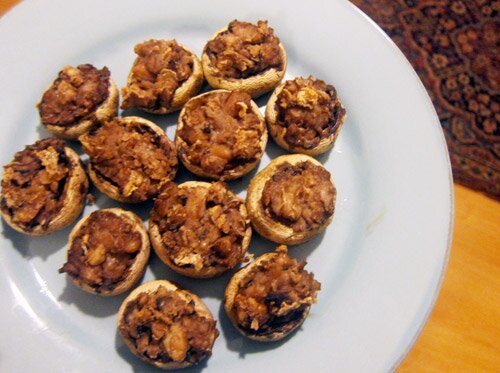 Stuffed mushrooms are an old favorite, but often contain buttery breadcrumbs, meat and a ton of cheese. Our healthy twist still contains cheese, but get most of their creamy goodness from a mashed up mix of white beans, walnuts and mushroom stems. And, drumroll please, these are most definitely the crowned winner of this round of recipe experimentation.
Ingredients
- 1 box of white mushrooms (about 8 oz)
- 1 can of white beans
- ¼ cup chopped walnuts
- 3 garlic cloves
- ¼ cup parmesan cheese

Preheat oven to 350°F.

Scrub your mushrooms with a mushroom brush. Pull out the stems and set a few aside. Dab the tops (the not scooped-out part) of each mushroom with a drop of olive oil, and set scoop side up in a cupcake pan. Using a cupcake pan isn't crucial, but is nice for absorbing all those delicious mushroom juices and ensures that mushrooms stay in their upright and locked position. ;)




Dice your reserved mushroom stems finely and sauté in pan with olive oil over medium heat. Crush garlic using a garlic press and add to pan. Cover and keep heating for 5 minutes.

Drain and rinse white beans. Add beans to the mushroom garlic mix and heat on medium uncovered. Add crushed walnuts and continue to sauté. After a few minutes, grab your trusty nylon potato masher (you can use metal if your sauté pan is metal, but the softness of nylon is preferred) and mash up your white bean stuffing allowing it to singe a little bit on the pan.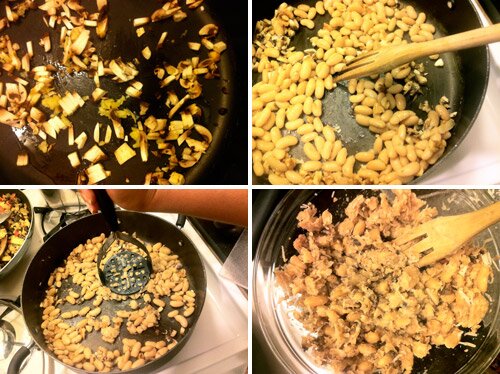 Remove stuffing from heat, and place in mixing bowl. Mix in the parmesan. Spoon the stuffing into the mushroom caps and bake for 15 minutes.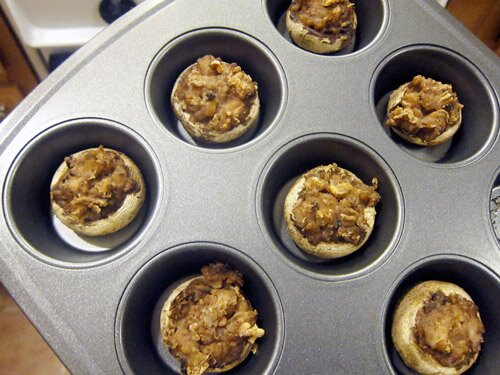 Take mushroom caps out of the oven, let cool for 5 minutes, and serve!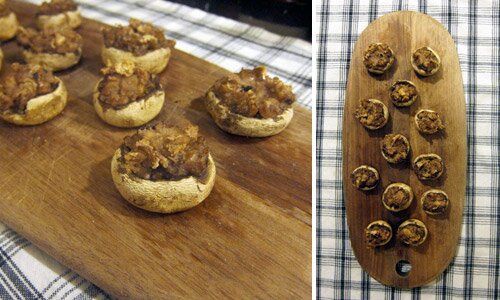 ---
---
You might also like
---