---
Zucchini Bruschetta Boats
Posted In: Food | Posted By: Anj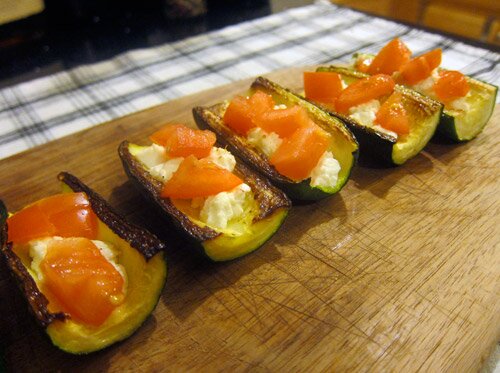 Few things beat Bruschetta. Tomatoes, olive oil, salt, pepper, bread. It's a no-brainer. Add a little cheese to the mix, and you're golden. But, since the holidays are filled with bread-heavy delights, pastries, and pies (oh my!), I decided to take these zucchini boats for a spin. The result? Easily my new go-to appetizer, and the prep is oh-so-simple.
Ingredients:
- 3 zucchinis
- goat cheese
- 1 tomato
- olive oil

Preheat oven to 400°F.

Wash zucchini. Quarter them but cutting in half in the middle, and then half each half lengthwise. Scoop out the inside using a teaspoon or melon baller. Toss in a light amount of olive oil, and place face up on a cookie sheet. Bake for 7 minutes, turn over (face down) and bake for an additional 7-10 minutes.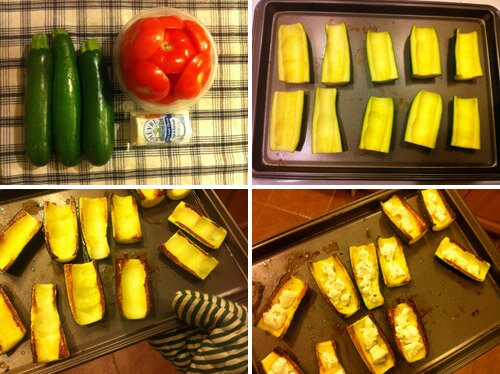 While the zucchini bakes, dice up your tomatoes and take the goat cheese out of the fridge so it softens up a bit. Take zucchini out of then oven, turn them face up, spoon goat cheese into the boats, and return to the oven for 5 minutes.

Remove the zucchini from the oven, top with diced tomato, salt and pepper and voila! Zucchini Bruschetta Boats that are perfectly delicious.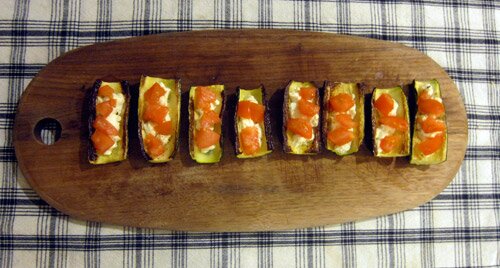 ---
---
You might also like
---