---
GIVEAWAY! A Month's Worth of the Anti 5-Hour Energy Drink
Posted In: Health | Posted By: Brit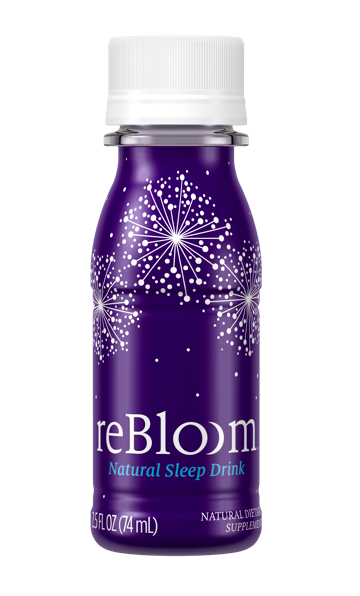 Nothing is better than a good night's sleep. (Trust me, I haven't gotten one in months thanks to my new puppy, .) And, knowing this, I'm sure you agree that nothing is worse than *not* being able to fall asleep whenever you want to get some shut eye.
That's why I'm so interested in reBloom, a drink clinically proven to help you fall asleep faster and stay asleep longer. It's like the anti 5-hour energy. Apparently, it's also supposed to enable you to wake up feeling more refreshed, given that you've likely had a better night's sleep. According to the label, it's only five calories, tastes like an herbal tea, and is made with natural ingredients (AKA no preservatives or drugs).
Now that I have some of my own (thanks to the team at reBloom), I'm planning to A/B test how effective the drink really is by quantifying how much my sleep score goes up using it. To do this, I'm going to check the scores on both my Jawbone UP and my Wakemate on two nights where I feel equally tired, then either do or don't use reBloom to fall asleep. I'll plan to post the results on my blog, if you're interested in finding them.
Want to experiment with me? I was able to entice the folks at reBloom to offer one of my readers a free month's worth (!) of their magical sleep drink! All you have to do to win is subscribe/like both and the , then post a note in the comments below stating why a great night of sleep is so important to you. We'll pick a winner by end of day Pacific Time this Friday. Good luck!
---
---
You might also like
---