---
Watch This Trend: Virtual Grocery Shopping Via Smartphones & Wallpaper
Posted In: Tech | Posted By: Brit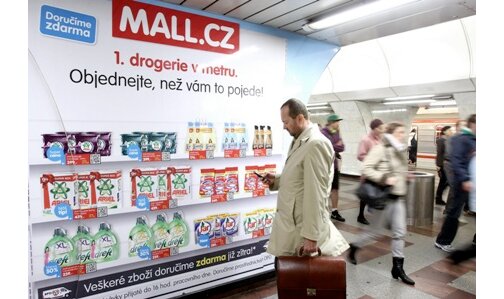 If you're like most of the world, "grocery shopping" means: driving to the grocery store, adding items to your cart, purchasing them, and bringing them home. If you're more of an early adopter, you may use services like NetGrocer or Safeway's online shopping features to shop for groceries on the web and have them delivered to you. Soon, however, you may be able to shop for groceries as you're walking down the street.

Proctor & Gamble have recently introduced a new concept called "the virtual drugstore". It's currently being tested in subway stations in the Czech Republic, enabling consumers to walk up to an oversized piece of wallpaper featuring realistic-looking shelves and products and scan their smartphone over an individual product QR code to make a purchase. Once scanned, the consumer can confirm the purchase and will receive the item in no more than two days.

Though just a test, if successful, this concept could be integrated in U.S. cities before we know it. And perhaps it won't just be useful for groceries - maybe brands will create virtual wallpaper stores for clothing, home goods and more.

What do you think? Would you be opposed to shopping for groceries in this way? Leave your thoughts in the comments below.
---
---
You might also like
---