---
How To Make Homemade Almond Milk
Posted In: Food | Posted By: Anj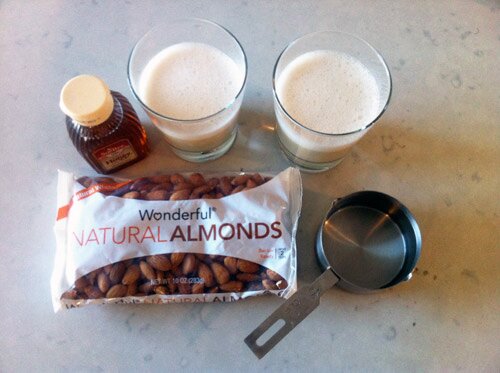 For today's bit of kitchen hackery, we enlisted the help of Ben Tseitlin, founder of healthy handmade chocolate company, Benchic Chocolate. Perfect for getting creative with the ABCDE diet, a batch of almond milk is ridiculously easy to make and with the simplest ingredients around.
Ingredients:
- raw almonds
- 3 cups of water
- 2 tbsp honey

Tools:
- blender
- cheese cloth or nut milk bag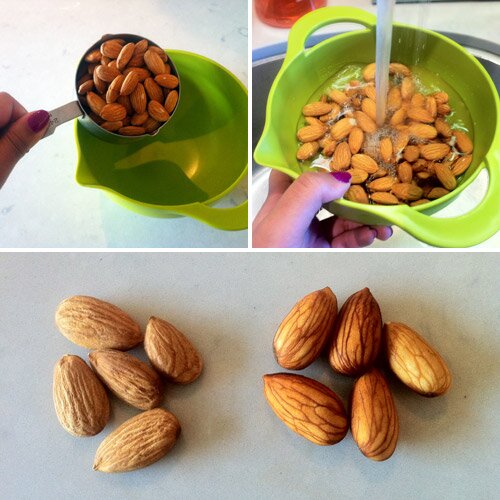 First, soak almonds in water for 6-8 hours. We recommend leaving them to soak overnight or when you leave for work in the morning. You can't really over-soak, but you probably don't want to leave almonds in water for more than 24 hours.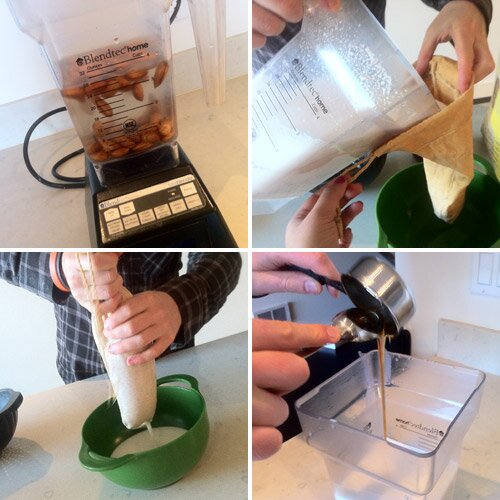 Place 1 cup of soaked almonds in your blender, and add 3 cups of water. You want to add 3x the amount of water as the amount of almonds you are using. So if you want to use 2 cups of almonds, you'll need 6 cups of water. Blend for 30 seconds. To separate the almond pulp, you can use cheesecloth or a nut milk bag. 

If you plan on making almond milk a lot, it's definitely worth springing for the official nut milk bag. Pour into the bag over a mixing bowl, and squeeze until you get all the milk out. You can save the almond pulp for a batch of almond bread or muffins, or discard. Be sure to to clean the cheesecloth or bag extremely thoroughly after using.
Rinse the blender and pour milk back in. Add 2 tbsp honey (more or less, based on how sweet you like it) and blend. Other sweet additions would be strawberries, blueberries, dates, agave nectar, etc. Feel free to freestyle!




Pour into glasses and you're done! Or bottle and refrigerate for up to 5 days after making. And if you want to use almond milk for savory creations like our Almond Cream of Broccoli, skip the second round of blending and adding sweets, and you're good to go. 

For more healthy deliciousness from Ben, check out Benchic Chocolate, read his blog, follow him on , or, if you're in SF, sign up for his scrumptious chocolate-making class on Skillshare.
---
---
You might also like
---