---
Peppery Polenta Pots
Posted In: Food | Posted By: Anj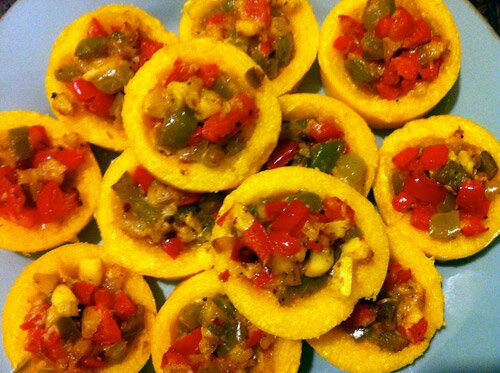 Who doesn't love a little alliteration? These Peppery Polenta Pots are more than a tongue twister, they're a great self-contained appetizer that pack a flavorful punch. If you haven't experimented with pre-made polenta, it is time to start. Homemade is always best, but I love the firmness of the polenta in a tube. It's great for grilling, baking, sautéeing, and just about everything. Plus, its fat free and gluten free!
Ingredients
- 2 tubes pre-made polenta
- 1 green bell pepper
- 1 red bell pepper
- 1 zucchini
- ½ cup freshly grated parmesan
- garlic powder
- red chili pepper flakes

Preheat oven to 350°F.

Wash peppers. Cut out pepper core, slice and dice. Heat olive oil in a sauté pan over medium heat, add peppers, and season with garlic powder, red chili pepper flakes, salt and pepper. Cover peppers and sauté for 5 minutes. Dice zucchini and add to the sauté. Heat uncovered for 10 minutes.




While all these veggies are heating up, it's time to tackle the polenta. Cut the polenta tube into 1-inch slices. Scoop out a cup form using our favorite tool, a melon baller. Save the discarded polenta for another recipe, perhaps a simple polenta, mushroom, spinach sauté with sun-dried tomatoes.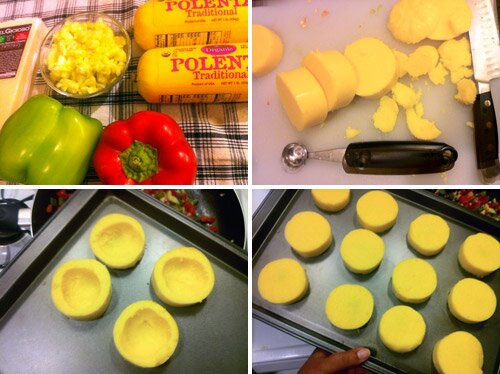 Use your finger to dab olive oil on the edges of the polenta pots. Then place on a cookie sheet face down and bake for 5 minutes. While the polenta pots crisp up, take your peppers off the stove and place in a mixing bowl. Add ½ cup of freshly grated parmesan and additional salt and pepper to taste.

Take polenta out of the oven. Dab the bottoms with a bit of olive oil, turn pots over, and fill with peppery goodness. Return to oven and bake for 10 minutes.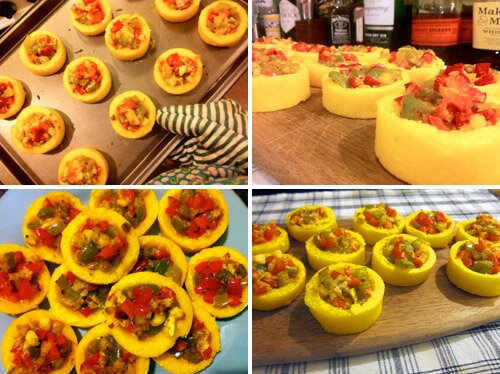 Remove polenta from oven, let cool for 5 minutes and there you have it. Peppery Polenta Pots!
---
---
You might also like
---