---
The Quirky Nacho Quartet: A 3-Course Meal + Cocktail
Posted In: Food | Posted By: Anj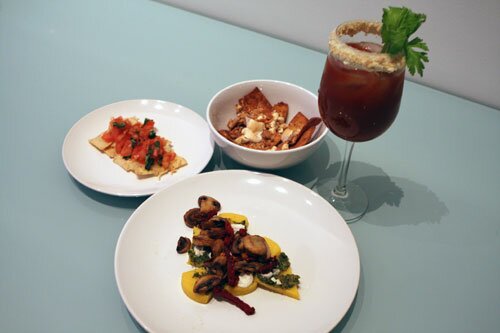 How does one tackle the task of a meal made only based on nachos? After some tasty experimentation, innovation and improvisation, we did it. The result? A frat boy (Bloody Mary Plus) hangs out with an Italian (Nacho-schetta) at a gourmet bistro (Cilantro Pesto Polenta) and wraps things up with a homemade 5th grade style dessert (Cinnamon Nachos Crunch). All in all, YUM.
1. Bloody Mary Plus

Ingredients:
- whipped cream cheese
- crumbled tortilla chips
- celery for garnish
For the shortcut bloody mary:
- spicy V8
- vodka
- jalapeños
- red chili pepper flakes
By far the most ridiculous of our nacho-inspired meal, this will definitely take your next bloody mary to a new level. Whether that level is awesome, kind of gross, or a delicious combination of both is up to you.
Crush tortilla chips using a ziploc bag and hammer. Pour chip crumbs into a bowl. Dip the rim of your glass in a tub of whipped cream cheese. Clean up the edges with your finger or a knife, and dip in chip crumbs.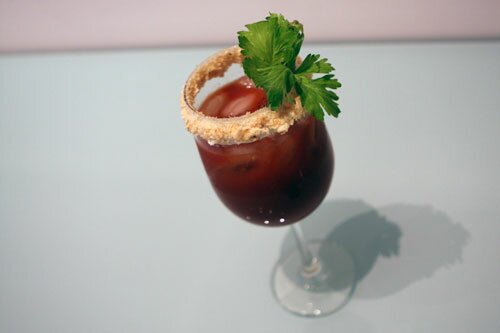 Pour in your favorite bloody mary recipe (or our shortcut above) and garnish with celery. 
2. Nacho-schetta

Ingredients:
- tortilla strips
- fresh mozzarella (we like the mini mozz balls)
- a blend of shredded cheese (we used the Mexican blend)
- tomatoes
- basil
- garlic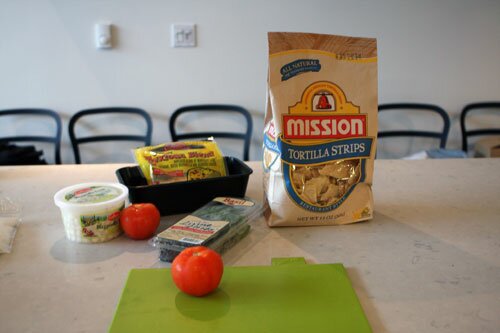 The ingredients for this are like that of any bruschetta, but with a twist. Other ways you could mix things up could be by using cilantro instead of basil, fresh red bell peppers instead of tomato, etc.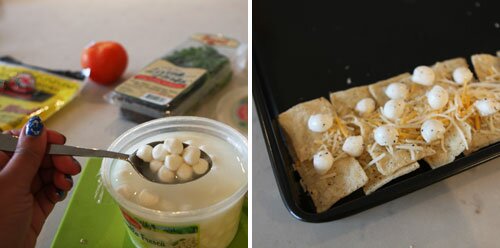 Preheat oven to 350°F. Lay out your tortilla strips on a cookie sheet. We were cooking for 2 but you could easily fill the whole sheet. Sprinkle shredded cheese on the tortilla strips, and add mozzarella. Bake for 5-10 minutes, until cheese is melted but not crisped.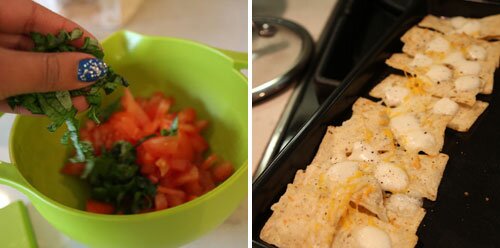 While the tortilla strips are baking, dice up a tomato and basil and toss together with olive oil, garlic, salt and pepper for your topping.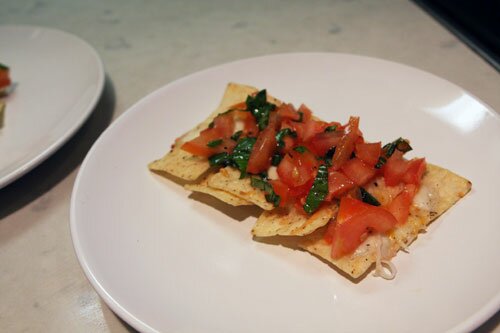 Remove tortilla strips from the oven, top with tomato basil mixture, and serve. Nacho-schetta!
3. Cilantro Pesto Polenta
Ingredients:
- white mushrooms (or any variety)
- sun-dried tomatoes, julienne cut
- pre-made tube of polenta
- feta
For the cilantro pesto:
- cilantro
- walnuts
- tomatillo
- small amount of polenta for thickening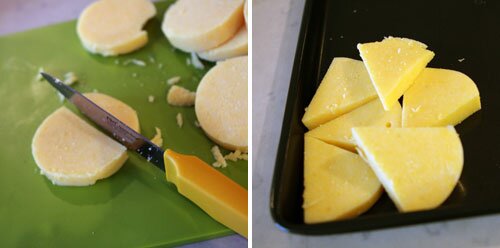 Preheat oven to 350°F. Take your tube of polenta and slice into 1/4 inch slices. Cut into triangles, and place on cookie sheet. Reserve the cut off pieces of polenta for pesto (and for lunch tomorrow!).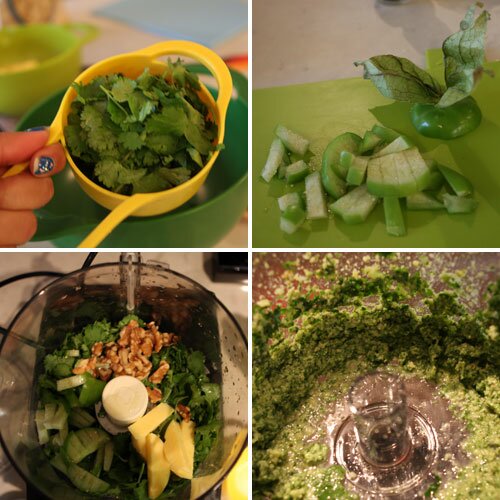 For the pesto, our recipe ended up making a quantity good for 4-6. Combine 1 cup cilantro, 1 diced tomatillo (about 1/2 cup), 1/4 cup walnuts, 1/4 cup polenta, and olive oil in a food processor. Add salt and pepper to taste.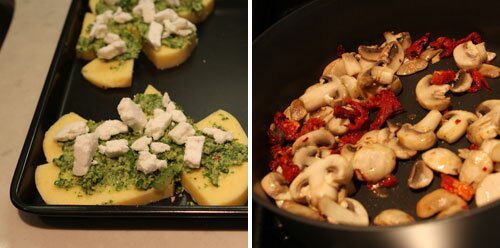 Spread the pesto over the polenta and top with feta. Bake for 15 minutes. While this is baking, sauté mushrooms and sun-dried tomatoes with red chili pepper flakes until nicely browned.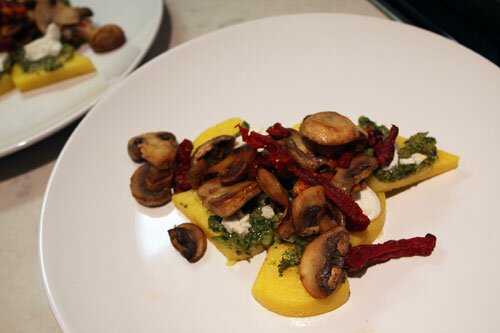 Remove polenta from oven and top with mushroom tomato mixture, and bon appetit!
4. Cinnamon Nacho Crunch
Ingredients:
- cinnamon sugar pita chips
- white chocolate chips
- shredded coconut
- marshmallows
- crumbled butterfinger pieces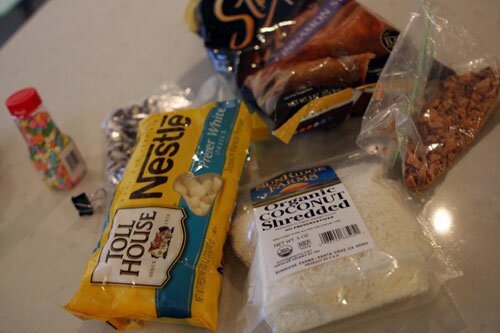 This is obviously the kind of snack that would have been a HUGE hit at a 5th grade sleepover. Preheat oven to 350°F.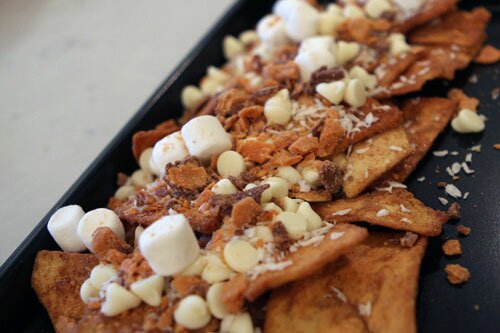 Arrange a layer of pita chips, add all the fixin's and bake for 10 minutes.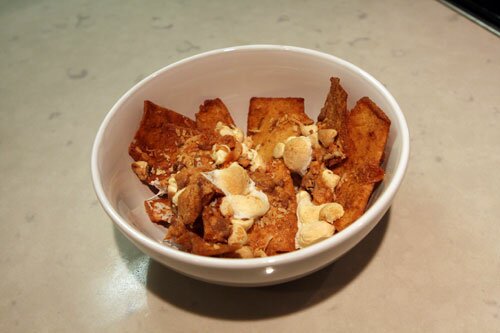 Eat straight off the cookie sheet with your besties, or serve in bowls with ice cream and hot fudge. YUM.
How do you make a little nacho-vation happen in your kitchen? We'd love to try your recipes. Send a note to . 
---
---
You might also like
---