---
A Quicker & Easier Way To Charge Your Gadgets
Posted In: Tech | Posted By: Brit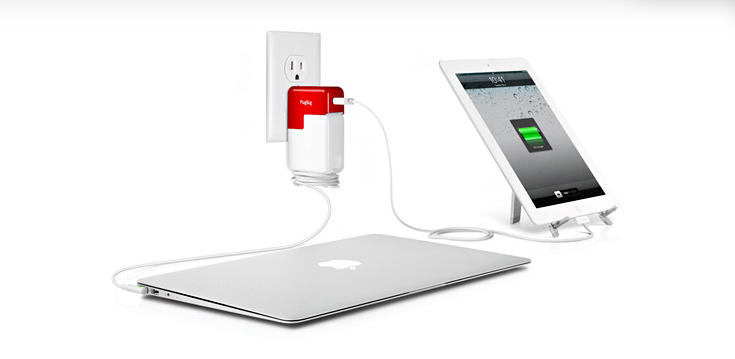 I love objects with multiple uses and I've just found another one. It's called the PlugBug ($35), a wall charger that fits onto your standard MacBook computer charger so that you can charge both your computer and your iPhone/iPad simultaneously.
But wait, combining two adaptors into one outlet must mean my gadgets won't charge as fast, right? Wrong. The PlugBug was built with a 10 watt charger that's used solely for the iPad/iPhone outlet - that means that your iPhone or iPad will actually charge even faster than it would using the power adaptor from Apple. (Your MacBook will still charge at the same speed.) One of the biggest sellers for me is the fact that I no longer have to keep up with so many cords. In fact, I'm thinking of buying two of these: one for travel and one for home.
For those wondering, yes it's technically possible to attach a USB cable from your Mac to your iPhone/iPad, but it charges much more slowly as it is sharing the adapter. The PlugBug includes a completely separate adapter for the iPhone/iPad so that you can quickly charge both together at once.
---
---
You might also like
---