---
Eggs x 3: Huevos Raviolos, Egg Roll Egg Rolls, and Twice Baked Egg-atos
Posted In: Food | Posted By: Anj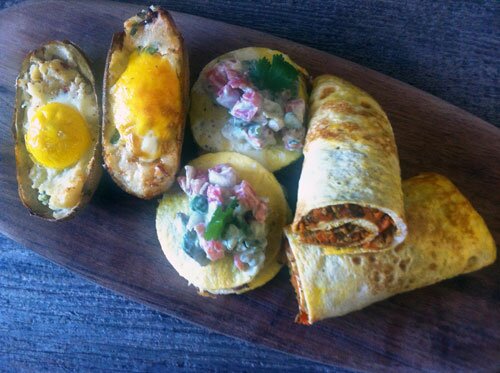 That's right. After delving into the wonderful world of eggs for dinner, we decided to whip up our own trio of odes to the deliciously versatile egg. 
1. Huevos Raviolos
Ingredients:
- eggs
- refried black beans
- onion
- tomato
- red chili pepper flakes
- Topping: sour cream, avocado, pico de gallo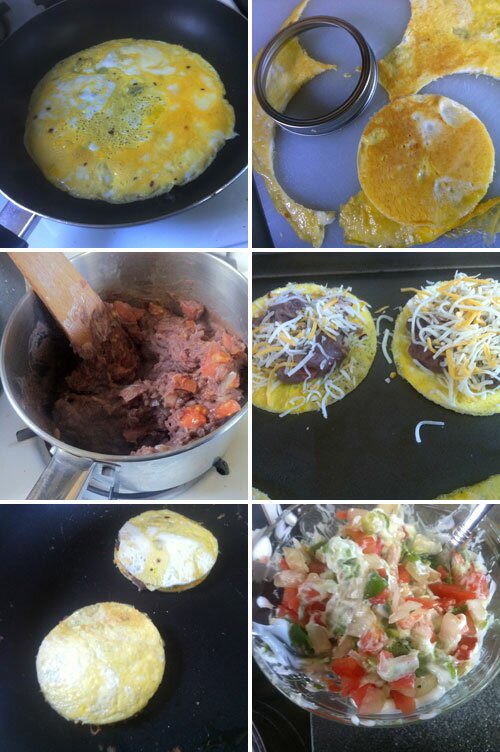 Whip together 3 or 4 eggs with half a teaspoon of red chili pepper flakes. Heat a small amount of olive oil in a frying pan on medium high. Pour in eggs, creating a super thin omelet. Flip once. Once your omelet is done cooking, remove from pan and place on a cutting board. Use a glass, jar, or, in our case, jar rim to cut out 4 circles. Let cool. 
While your omelet is cooling, saute chopped onion in a small sauce pan. We used 1/4 of an onion for this batch. Add 1/2 a can of refried black beans. Cook on medium for a few minutes. Add in chopped tomato, and salt and pepper to taste. Turn off heat, and stir in a tablespoon of shredded cheddar or a Mexican cheese blend. 
Spoon bean mixture onto two egg circles. Sprinkle cheese on top and sandwich with your two other egg circles. Heat in a frying pan for a few minutes, until the cheese melts and the ravioli have bonded.
Serve with your choice of salsa or garnish. We whipped up a blend of sour cream, avocado and pico de gallo. Buenisimo!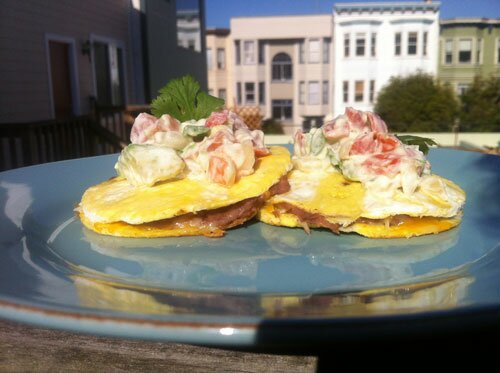 2. Egg Roll Egg Rolls
Ingredients: 
- eggs
- carrots
- leeks
- shiitake mushrooms
- peanut butter
- sesame oil
- soy sauce
- ginger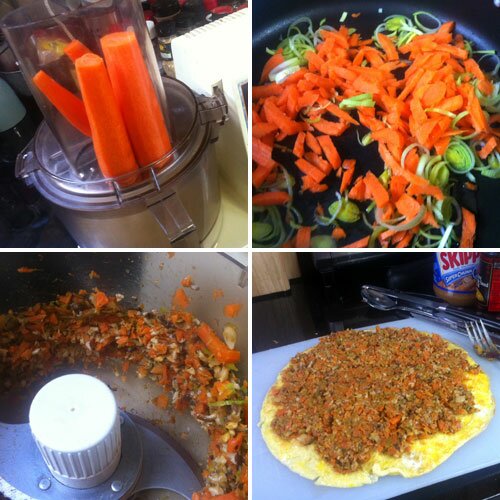 Use a food processor to grate your carrot. Set aside. Saute thinly sliced leeks in olive oil with a couple drops of sesame oil. Add carrot and 1 tbsp water. Cover and let cook for 5 minutes. Add 1 tsp ginger (we used ginger paste), shiitake mushrooms, a 1/2 tbsp of crunchy peanut butter, and 2 tsp soy sauce. Cook for 5 minutes. Return to food processor and, using a standard food processor blade, blend. 
Like with the ravioli, you'll need a super thin omelet. Once you have your omelet, place on a cutting board or plate and spread out carrot mushroom puree on top. Roll it up, cut it in half, and there you have it! Use soy sauce for dipping.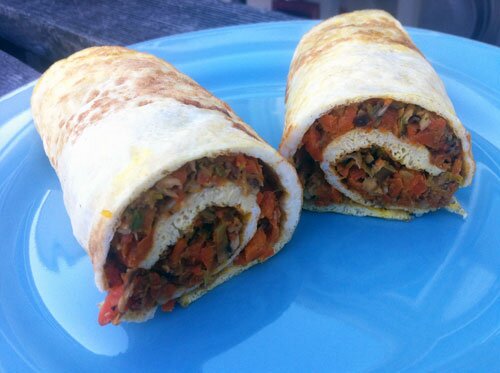 3. Twice Baked Egg-atos
Ingredients:
- russet potatoes
- eggs
- sun-dried tomatoes
- scallions
- butter
- shredded white cheddar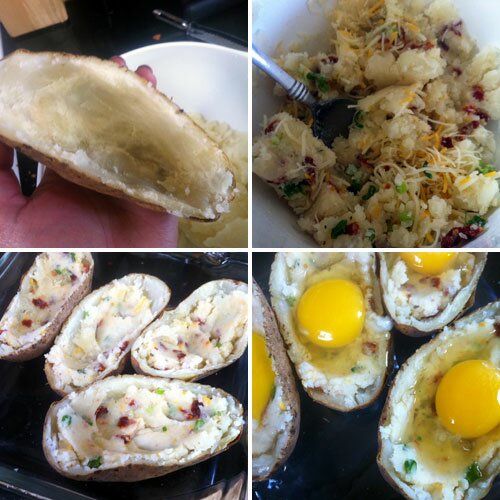 Preheat oven to 400°F. Once heated, wash your potatoes, poke each a few times with a fork and let bake for 1 hour. Kick back with a beer and an episode of Friday Night Lights. Take out potatoes and let cool. While cooling, chop up scallions and sun-dried tomatoes. Cut potatoes in half and scoop out the middles. Mix potatoes in a bowl with 1 tbsp butter, sun-dried tomatoes, scallions, and 1/4 cup shredded white cheddar cheese. Spoon filling into potato skins, leaving a cup-like shape in each middle for the eggs. Crack eggs directly into potatoes and bake for 15-20 minutes.
Voila! Twice Baked Egg-atos!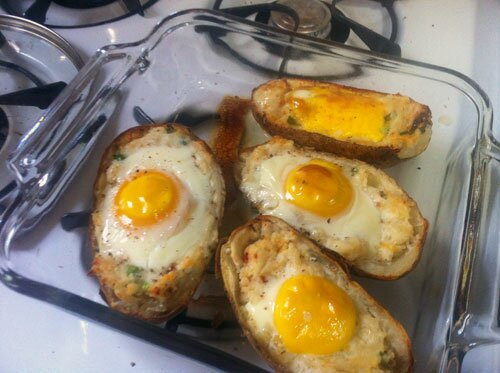 For creative breakfast ideas, check out our Egg-o Waffles and Egg Muffins.
Have you been experimenting with eggs for dinner this week? We'd love to see photos and recipes. Send a note to . 
---
---
You might also like
---