---
Tuesday's Tech of the Week, Volume 3: Movie Edition
Posted In: Tech | Posted By: Anj
Can't make it to Sundance? Need to bone up on 2011's best movies in time for the Oscars? We've got the fix for you. Presenting our roundup of the best sites, apps, and gadgets for movies, trailers and more.
WEBSITES:
Netflix: We couldn't kick off a movie-centric tech post without giving props to good old Netflix. For a good history of classic film, we recommend searching the genre Classic and planning a few Sunday movie nights.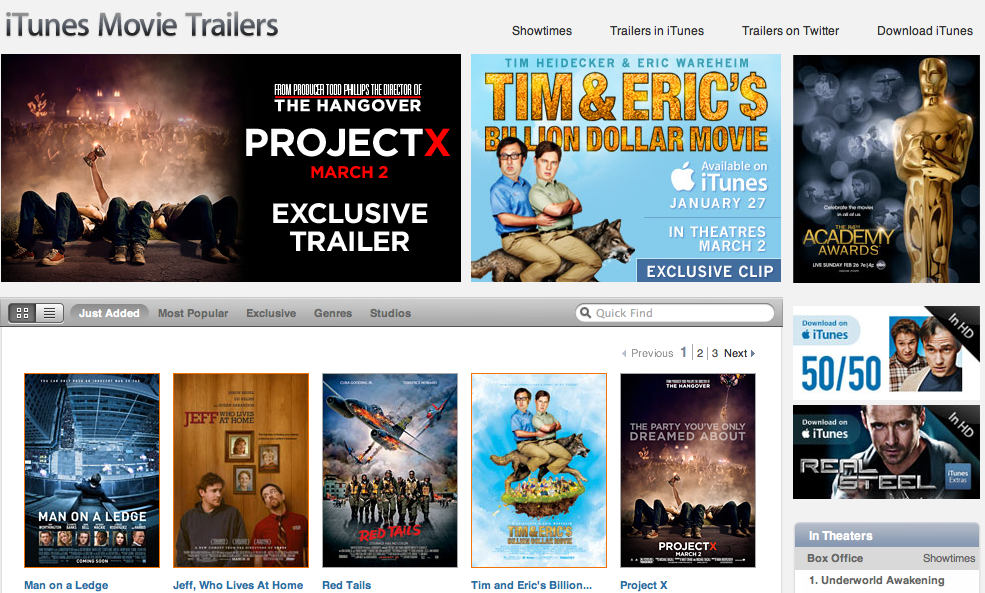 iTunes Movie Trailers: Because most of this year's Oscar contenders are not yet available for streaming, we love browsing trailers on the iTunes site. Our picks for this year's Best Picture nod? Moneyball, Extremely Loud & Incredibly Close, and The Help. And as soon as they're available, you can bet we'll be downloading rentals on iTunes as well. ;)
VHX: If you love collecting trailers but your bookmarks folders are bursting at the seams, use VHX to save YouTube and Vimeo videos for later, or create playlists to share with friends. 
Hulu: Everyone's go-to for catching up on shows like Parks and Recreation, 30 Rock and Gossip Girl, Hulu's movie selection contains some hidden gems if you're willing to search. Our favorite Hulu (non-Plus) flicks include Clerks, Adventures in Babysitting, Donnie Brasco, and Amelie. 
: Vimeo is an incredible place to find creative films by independent filmmakers, from shorts to full-length features. We recommend browsing channels like , , and music buffs will love .
Amazon Instant Video: When Netflix won't do the trick or you're an Amazon Prime addict like us, turn to Amazon Instant Video. The best part about Amazon is that it's kind of like Netflix-meets-iTunes. With a Prime membership, you can stream an unlimited number of movies and TV shows at no additional cost, and if they're not available for "free" you can rent them a la iTunes. Plus, no download time.
Plex: Currently available to Mac users only, Plex bridges the gap between your computer and home theater with an attractive user interface making managing all of your different media (from personal video, audio and photo formats to online streaming audio and video) way more simple.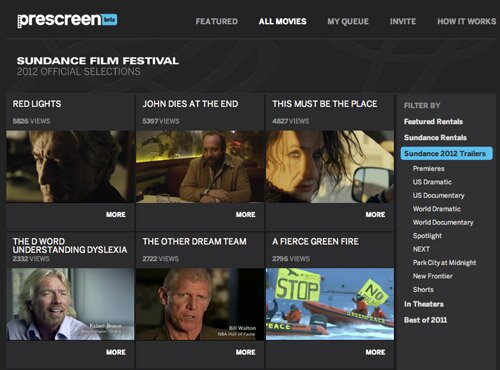 Prescreen: Still in beta, Prescreen is a brand new site that allows you to view hard-to-find films by both budding and established filmmakers, with a social component. Each day a new movie is released, and is available for 60 days only. The site houses just 60 movies at a time, all available for streaming on demand for up to 48 hours. Bonus: The earlier into the 60-day cycle you watch, the cheaper the movie rental is!
IMDB: How do you find out whether or not the girl playing one of Reese Witherspoon's best friends in Legally Blonde was also a secondary character in The Brady Bunch Movie? IMDB! From cast lists to movie stills to memorable quotes to local showtimes, this site is a veritable movie-pedia.
Clicker: Clicker is your complete guide to television online. Search for your favorite shows, and discover what's available online, what isn't, and see what your friends think is worth watching. Once you've found what you want, you can watch it asap or save it for later. Part internet TV guide, part DVR, and part wiki.
APPS: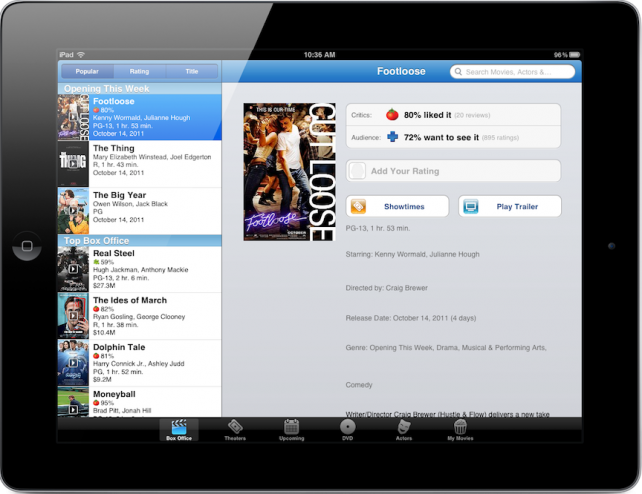 Flixster: Flixster gives you access to movie information, trailers, and a full on movie collection (should you choose to build it) from your computer and from compatible smartphones, tablets and TVs. What we love is being able to add movies to our "Want To See It" list and, using Facebook connect, seeing what our friends have on their lists.
: How often are you trying to remember a specific quote, moment or song from a movie and have no idea where to look? We don't need to tell you why YouTube is awesome, but we do recommend using the mobile app for studying up on Oscar picks, , and Rebecca Black's latest. 
: Xfinity subscribers are shouting from the tree tops over Xfinity's sleek mobile app. As of now, you can not only watch your favorite shows and movies on your iPhone or iPad, but can also control your home TV's DVR no matter where you are. Stay tuned for the updated app which is likely to support live streaming!
Crackle: Crackle is about pure entertainment, whether it's full-length movies, tv shows, or original content, they claim you won't find anything gimmicky. For us, Crackle's mobile app is the real kicker. You can watch from wherever, whenever, and with no limit. Check here to see if your mobile device is supported.
GADGETS: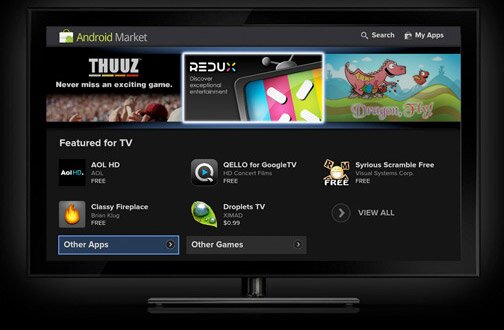 : If you've been following us for a while, . We love being able to search for channels and shows by name instead of using the guide, and being able to stream music, watch video podcasts, and of course tons of streaming video through sites like YouTube, Amazon Instant Video, and Netflix.
Apple TV: Yet another beautifully designed object to fit into your Apple universe, Apple TV gives you access to movies, TV shows, your music photos, news and sports, right on your widescreen TV. And thanks to iCloud, you can easily access previously purchased TV shows as well as personal audio, video and photo content.

Roku: Launched initially to deliver movies from Netflix instantly on TV, Roku's streaming players now offer a plethora of different options for entertainment, from games to TV shows to movies and more. The best part? The Roku fits in the palm of your hand and is ridiculously affordable.
Microvision: We wrote about this last week, but it's still a ridiculously awesome gadget for projecting video from your phone, computer or iPad at up to 100" image size in high resolution. Can't wait to try one of these projectors out at Brit HQ.
How do you prep for all the movie madness of the winter months? Any tips for new or upcoming sites, apps, or gadgets we should know about? Leave us a note below or say hello on .
---
---
You might also like
---